How Social Media Helps A Small Business To Grow Without A Website?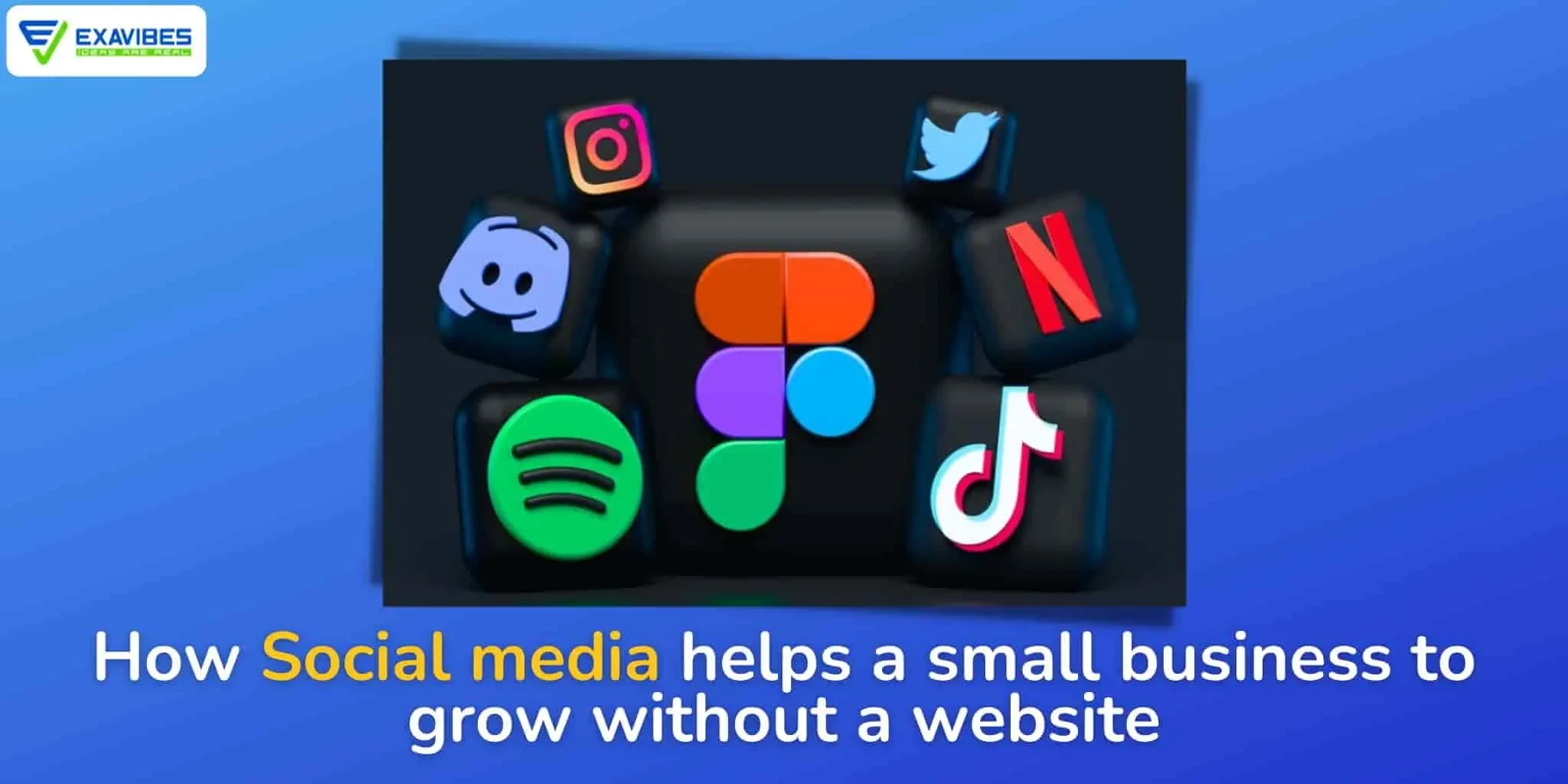 | (0) Comments |Author :Exavibes Services
How social media helps a small business to grow without a website?
Alright, here are some astonishing numbers when it comes to small business website owners. Not many would believe that even today around 40% to 42% of businesses, especially small enterprises do not have a website, a website agency, or a
top social media marketing company
. The percentage varies from geography to geography. So, why do these businesses not care about being in sync with digital times? Of the many who do not own or a few who have built but completely abandoned their web properties the reasons are many, but most fit into the following three categories.
Many owners when asked about this lapse justify it by saying that a website is irrelevant to their business or their enterprise is unaffected by its absence. It may sound weird but this is one of the top three reasons for not having a website.
Too much competition. This seems like a genuine reason. Many small organizations build a website and then quickly realize it is just impossible to beat the competition and hence the resultant apathy. Once the domain name or the hosting service period ends these entities do not opt for renewals.
Increase in expenditure. This is again true. Having a website means updating and upgrading regularly, this includes content creation. Updating demands the services of a developer or an agency. Almost 20% of website owners outsource their update needs to agencies. This is a pricey affair. The in-house developer / graphic designer combo can be even more costly.

Many small business owners also feel that their websites do not get enough traffic to justify the expenditure year on year.
Are you one of those who feel like trying out other ways of generating leads, sales, and customer engagement? Yes! Then read on to know how social media marketing and
social media marketing
companies can help small businesses grow without a website?
Mentioned below are the four popular ways of growing your business without a website, typically via social media and blogging.
Facebook – The Undisputed King of Social Media
With just under 3 billion monthly active users ( 2022 statistics ) Facebook is undoubtedly the most exploited online social networking application. Imagine the sheer exposure that your brand, products, and services can get.
So, how do you grow your small business with Facebook & Facebook Ads services?
There are several ways to go about but before that businesses need to create a dedicated brand page. Once the page is created, small organizations can opt for the following options -
Posting regularly on this page. Tagging and linking can further improve reach and engagement.
Exploiting Marketplace. With the marketplace ecosystem, businesses can actually sell products and services right from Facebook itself. Of course payment details, organization information, and some of the legal criteria need to be fulfilled before making the business live.
Dedicated and exclusive buttons can route a visitor to an order form, messenger app, or even a third-party hosted blogging platform. Content creation and sharing is yet another easy but intuitive way to engage with customers and grow small businesses.
Building a shop within the Facebook environment.
If the above seems overwhelming small businesses can simply post their latest product or service, and convert it into a paid campaign by tweaking various target parameters such as gender, age, geography, interests, and profession. Hiring a social media marketing company in Mumbai or anywhere in India to accomplish this task is a perfect alternative in case you are not up to it.
For the conservatives, simply build up followers on the Facebook page and see your brand grow in terms of popularity and engagement.

Instagram – A Perfect Facebook Partner
Instagram is yet another popular social media platform, and a part of Metaverse, aka Facebook. Unlike Facebook, Instagram boasts a little over 1 billion monthly active users but is still power-packed when it comes to growing your business. Mentioned below are some of the ways you can personally exploit in the case as a business owner you don't want to hire the best content marketing company.
Instagram is all about images. So, whether you are a manufacturer, trader, celebrity, or service provider make sure you post high definition, high resolution, challenging, and intriguing images ( Posts ). Add hashtags, in-photo tags ( links ), and even tag influencers for maximum reach.
Create regular stories in the form of slide shows, videos, or audio. These are typically short, creative, and quirky reels that allow businesses to remain in touch with Instagram followers and even coerce/attract others.
By asking customers/followers to tag your business in their post you not just get a genuine endorsement but also fetch greater reach.
Paid campaigns, adding order forms, and providing crucial information in the profile section can do wonders to your business. The process is slow but the results are amazing in the long run. Seek social media marketing company support in case you find it overwhelming.

YouTube – The Media Moghul
YouTube is an excellent
Content Creation,
advertising, and marketing channel for small businesses. The audio/video & animation formats instantly grab the attention of visitors. Moreover, AVs are known for their high-impact, long impression attributes. People may forget a creative image or a short text note, but an audio-video film lingers in the subconscious for an extended period. Businesses can either post videos and then add links to their products or services on their own company channel or advertise on influencer channels for a broader impact.


Twitter – Blasting your way to customers with few words
Twitter provides few options to grow a small business. However, it is a fantastic tool to improve brand image and thereby sales through linked / interconnected social media platforms. However, Twitter has promised to integrate shopping features in the future. This will allow businesses to create links within the tweets and then connect them to the shop where customers can purchase.
The Twitter profile is also a great place to add vital information about a business, such as the address, selling platforms, and telephone number. These are not direct sales boosters but it nonetheless improves awareness and engagement.
Paid tweets ( solo or through a top social media marketing company ) can also be exploited by small organizations, especially when a new product or service is launched. Tweeting at the right time and in the right volume is the key to success in terms of business development.

Content Creation & Marketing – Still the Reigning King
Although it is not an integral part of social media, nonetheless sharing and marketing valuable, relevant content such as articles, blogs, webinars, podcasts, etc. to a targeted audience is still a potent weapon to convert passive readers/visitors into a steady stream of conversions and/or customers. These are niche in nature and therefore cater to a particular category of people. Several experts also suggest that before launching a social media blitzkrieg it makes sense to first initiate a content marketing strategy. Content can be easily developed in-house and then posted on various complementing platforms.
Conclusion -
A website is important. However, the fact cannot be ignored that building, maintaining, and updating is a big hassle for small businesses. Moreover, hosting and domain charges which are increasing rapidly also need to be paid every year or depending on the plan chosen. All this leads to chaos and indifference in the minds of small business owners. Social media provides a perfect alternative. It is easy to learn, cheap to operate, and offers better results than a static website ... at least in terms of sales and engagement. On the other hand, small businesses can either write and market their own content or use an affordable
Content Marketing Company
for these tasks.
---