How Digital Marketing Can Help IT Companies To Get More Clients?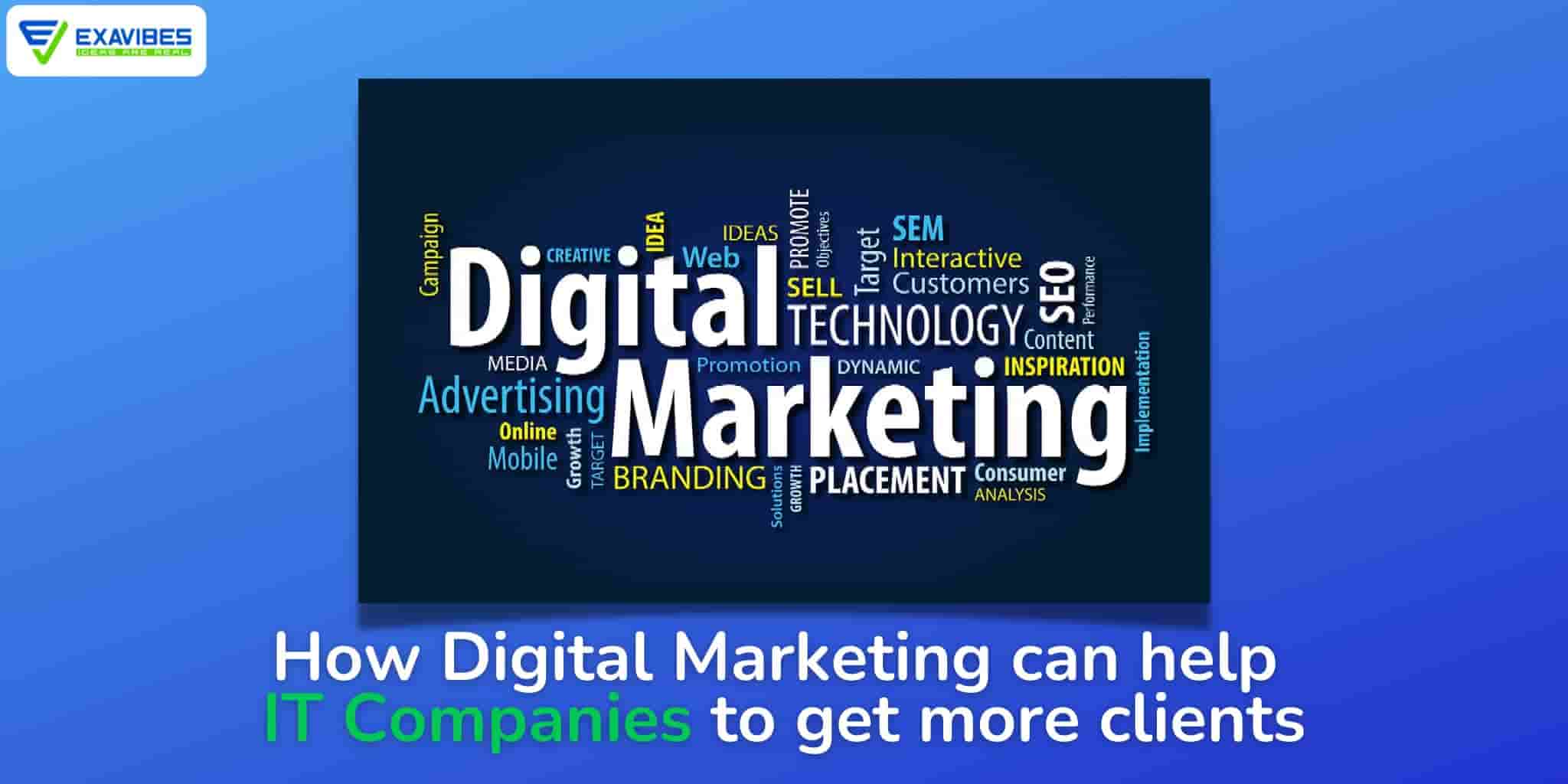 | (0) Comments |Author :Exavibes Services
According to Statista, the global digital population continued to grow and as of April 2022, the number of internet users crossed the 5 billion mark while the number of social media users stands at 4.65 billion. No wonder then
Digital Marketing Services
agencies are in such great demand. The above number translates into another astonishing reflection - it simply means that 63% of the global population is now hooked to the internet. Of course, the density of internet users varies from geography to geography. At the top of the heap is Northern Europe with an almost 98% penetration rate.
Everyone is connected to the Internet -
Global folks are connected to the internet for different reasons. While businesses and technology entities cannot survive without its benediction, ordinary people are dependent on it for shopping, mail, social media, entertainment and travel. The above data can be summed up in just a few words - a digital platform is a vast ocean of consumers. Organizations never had it so good before. An intelligent and intuitive digital marketing strategy can help IT companies including Mobile App Development Company get more clients.
Yes, this absolutely true and achievable.
Before we delve into how digital marketing can help IT companies fetch more clients, first let us consider the different types of Digital Marketing solutions.
Search Engine Marketing -
One of the basic digital marketing strategies is to list IT services on any search engine, such as Google, in the form of Google Ads. It works on the principle of PPC or pay per click. When a potential customer or a business entity clicks this advertisement it takes this person to the advertiser's landing page. Of-course Google charges for such advertisements (Link and Display).
IT agencies
also attract traffic to their websites via organic traffic. This is unpaid and achieved through strong SEO (on-page and off-page). There is a catch here – to build a strong SEO IT companies need to hire professionals.
Social Media Marketing -
This one is pretty self-explanatory. Platforms like Facebook, Instagram and Twitter boast billions of users and they flock to these respective platforms in equal numbers every month, perpetually. While some are hooked by Facebook's intuitive post and story features, there are others who appreciate Instagram for its image-based sharing idea and twitter's 140 words power-packed tweets. These avenues allow IT companies to build brands, engage with users and thereby generate leads and unique user content which eventually gets indexed by search engines such as Google. This kind of content drives indirect traffic to the linked page.
Most of the social media platforms and social media services providers provide ad campaign options. Exploiting the same through paid avenue can drastically improve the user base and thereby business.
Content Marketing -
Content marketing is a bouquet of strategies and a part of digital marketing services. This includes text (Blog, Articles, User-generated content), Images (Infographics and Animations), and AV content (Audio, video, animations & doodles). These forms of content can be used to launch new services, testimonials, stories, and internal stories. The content is then shared on influential blogger sites, article sharing platforms, and YouTube. They can be further exploited by converting them into paid campaigns.

But why digital marketing?
Why not opt for other strategies? Mentioned below are some of the compelling reasons why IT and technology firms should choose digital marketing as their primary tool to improve business as well as increase customer base.
A Penny Saved is a Penny Earned -
By exploiting digital marketing services, businesses can target their campaigns/advertisements accordingly. It simply means impressive ROI. Unlike other avenues, the digital platform allows advertisers to keep a tight leash on their marketing expenditure. So, what does targeted marketing mean? For example, Facebook allows campaigns that can be directed at a specific gender, age group, geography and even deeper filters like interests and job profile.
Unlike television, newspaper, radio and business events where all and sundry are forced to watch/listen advertiser's campaign, digital marketing is a niche in nature. In short, it provides returns that are not possible with other forms of marketing.
Traditional Marketing is Pricey -
Even a kid knows the exorbitant costs of advertising on mediums such as television, print or radio. These are simply unaffordable for small and medium IT organizations that typically survive on low margins. This also includes Mobile App Development Company. Even if the margins were high the above-mentioned avenues will impact the bottom line negatively resulting in losses. Television and newspapers demand lakhs while the brevity of radio advertising is not worth the money it demands. On the other hand, even a small budget in digital marketing goes a long way and offers impressive response and reach.
The world has migrated -
Where? To the digital platform, where else! The numbers at the top vouch for the fact that the world has evolved. People prefer to read and listen on digital platforms. Newspaper and paper magazines are passé. The youth of today demands news, leisure and entertainment information in portable form, on an equally handy device. That tool is the mobile phone.
Except for hardcore application development and graphic / motion intensive tasks, most the folks use handheld devices for their daily dose of entertainment, work, knowledge and social media tasks. It, therefore, makes sense to opt for social media services.
A PWA or a dedicated responsive website offers IT companies a lethal tool and a multi-faceted, affordable and target-oriented marketing platform that can reach out to billions of users / potential customers. Digital marketing allows businesses to narrow their focus on a specific area of a suburb. This is a great way to develop leads and customers within restrained, kilometer-based geography. Facebook and Google Ads is a perfect examples.
Here are some of the undisputed facts about digital marketing services
-
Quality website or blog content increases consumer spending by 130%.
Content marketing is one of the cheapest digital marketing options that provide a triple number of leads as the paid variation and is almost 60% cheaper.
Setting up a digital marketing campaign intuitively and intelligently offers companies quality leads with a greater percentage of conversion.

Conclusion -
Television and print advertising may still be relevant for some domains, but as far as IT is concerned, digital marketing services are the best option. The targeted, affordable and diverse avenues can be easily leveraged by small and medium-sized companies to fetch traffic, leads, and improved brand awareness. Surprisingly, digital marketing can be started with just a few hundred rupees and scaled up depending on the budget. This single feature alone makes online marketing the King of all advertising platforms.
---