COMMON CHALLENGES FACED AFTER MOBILE APP LAUNCH AND HOW TO DEAL WITH THEM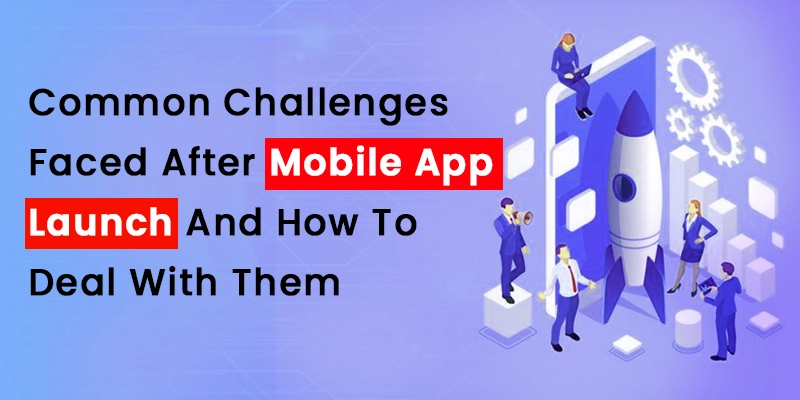 | (0) Comments |Author :Exavibes
COMMON CHALLENGES FACED AFTER MOBILE APP LAUNCH AND HOW TO DEAL WITH THEM
In today's market, mobile app development is proving to be a strategic decision enabling businesses to enhance their brand placement, increase their reach, and improve customer experience. Every year, we witness growth in the number of companies investing in mobile app development; however, most of them sink into oblivion due to the app's underperformance and lack of post-launch app maintenance plan. It can be exasperating to see an app's short-lived success after investing a significant amount of time and money in developing and launching the app.
This article will help you identify the most common challenges faced by companies after launching their mobile apps and give you some solutions to avoid the same.
CHALLENGES FACED AFTER LAUNCHING THE APP
Developing and launching an app brings along technical challenges and not being ready to address the same can result in failure not just costing a substantial amount of money but also putting the brand at risk. Being aware of, and mitigating the risks of mobile app launch mistakes will lead to an app that is more likely to be accepted by customers and build business. Here is a list of common, yet overlooked mobile app launch pitfalls and ways to avoid them.
1) Missed Pre-Launch Opportunities: Most of the companies focus all their resources on development and fail to apply some marketing efforts to ensure success once the app hit the stores. While developing a high-performing app is important, the lack of a pre-launch marketing plan results in less momentum upon release.
Solution: Promote your app on a variety of platforms including social media, ads, and websites. Having industry-specific influencers talk about the same can be a great way to create a buzz around the app. This can surely help in building momentum once the app hits the app stores.
2) Not knowing the audience well: Understanding the core audience your app is built for is paramount to the app's success. While the app is available for all, a well-defined demographic will lead to higher installation rates. Knowing the audience well is also important as it helps in understanding what they dislike in already existing similar apps. This will help in creating a better user experience and increase retention rates.

Solution: Build your marketing plan around a few key questions: Whom is your app built for? What problem is the app solving for its users? How is your app different from similar apps available? How is your app delivering value to users? Build a user persona that will help in identifying answers to these questions and design a marketing plan that can target the right audience.
3) App is not easily visible to users: For an app to receive a high number of downloads, it has to stand out. The most common mistake made by mobile app owners is that they don't make their app easily visible and discoverable on app stores, and eventually the app gets lost amongst its competitors.

Solution: Capitalize on App store optimization (ASO). ASO is a great way to boost visibility in saturated app stores as it allows users to discover and download the app easily. Some of the pointers to be taken care of are:
Having a memorable name for the app
Optimizing the description of the app
Having an appealing app icon.
Optimizing keyword searches.
Another strategy to make your app discoverable is using Discovery Platforms such as PreApps, AppGratis, and AppPicker. These platforms allow you to showcase your app to a targeted demographic through reviews, ratings, and shares. These discovery platforms have an engaged and targeted audience that can be accessed at no or low cost. This focused strategy will increase your conversion and retention rates, which is the goal of any app.
4) Underestimating the value of reviews and ratings: Strong ratings and reviews project the value that the app offers to potential users. When was the last time you downloaded an app that had a one-star rating? The probability of consumers downloading the app becomes high if they see good ratings given by other consumers. Reviews and ratings help in convincing people that the app offers value that no other product offers to them.

Solution: App store algorithms consider reviews and ratings as a part of their ranking system. The higher the rating, the higher the ranking. It also encourages a potential user to download the app. This is why an excellent user experience, the right ASO strategy, and choosing the right submission platform are fundamental to the success of any app. If there is a negative review, address the issue immediately. This shows the users and potential ones that you intend to offer the best value to them.
5) Scalability issues: One of the most common challenges faced by mobile app companies after app launch is the ease of scalability. The app must be capable of handling a growing number of users without compromising on speed and quality. Its infrastructure must be well-designed to support an increasing number of requests per minute (RPM).

Solution: If you want to keep scalability issues from impacting user experience, you will need a dedicated team for monitoring app performance, track speed and quality of engagement, identify issues, and resolving them as soon as they are identified. Choosing a trusted app development company can be of great help as their experienced team can help in regular maintenance and support to ensure smooth functionality and fix bugs and errors as and when they occur. Moreover, they have the requisite knowledge about the resources used and the related bottlenecks or latency. They can thoroughly analyze the data storing structure of the app and the API latency to assure optimum speed and reduce the possibility of app crashes. This helps in maintaining the credibility and performance of the app.

6) App upgradation: Technologies are constantly evolving, and it is of utmost importance to ensure that the app is compatible with the latest devices and or OS versions. The regular app update is a make-or-break factor for any app to remain competitive and retain customers.

Solution: You need to develop ways to maintain the app's performance, monitor usage, and tweak features and functionality accordingly. A reputed app maintenance service provider can offer 360-degree monitoring and maintenance. They keep the app updated for new releases of Android and iOS versions.

7) Compromised security: Nothing can be as calamitous for an app as compromised security. Hackers look for vulnerabilities in apps and if your app involves monetary transactions by users, any lapse in security can lead to the immediate failure of the app.

Solution: Optimizing the SSL / TLS of your app is mandatory to ensure that the app's data is in safe transit. TLS and SSL are responsible for transactions through data encryption. You must choose a trusted source to get a TLS certificate for your app.

Final thoughts:
An app is essentially a marketing and branding tool and has long-term effects on customers' perception and loyalty. Therefore, it is important to be aware of and avoid pitfalls when launching an app. A successful launch is crucial to improving customer acquisition and enhancing customer retention. Running a successful app requires constant updates to overcome challenges like changing technology, changing markets, and changing customer preferences. Hence it is best to hire an experienced app development company that can provide the necessary post-launch support. Exavibes is a trusted app development company in India and provides a dedicated team for app maintenance to ensure the seamless performance of your app.
---