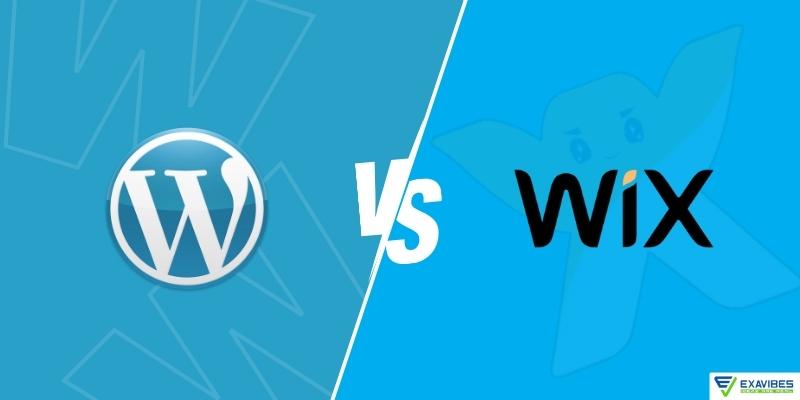 Wordpress Vs Wix? What Is Better
| Author :Exavibes Services
In the digital age, your website is often the first interaction potential customers have with your business. As such, it's crucial that your website not only looks visually appealing but also functions seamlessly. One of the key aspects of website design is its role in maximizing user engagement.
Wordpress vs Wix Comparison

In this blog, we will delve into the various elements and strategies that make website design a critical factor in enhancing user engagement.

What is Wordpress?
WordPress is an open-source content management system (CMS) and website-building platform renowned for its user-friendly interface and extensive functionality. It empowers individuals, businesses, and organizations to easily create, publish, and manage digital content online without requiring advanced technical skills. With WordPress, users can choose from a diverse selection of themes to control the design and layout of their websites, tailoring them to their specific needs and preferences. The platform also boasts a vast repository of plugins, both free and premium, which enhance a website's capabilities by adding features such as SEO optimization, e-commerce functionality, social media integration, and more.
WordPress is a popular choice for businesses, organizations, and individuals because it is easy to use and has a wide range of features.

With WordPress, you can create:
Business websites
eCommerce stores
Blogs
Portfolios
Resumes
Forums
Social networks
Membership sites
Between its
inception
as a blog platform in 2003 and today, WordPress has had a long history...
But, enough to say, WordPress has progressed and, owing to its contributors and large community, has become the most popular solution for creating any form of website.
What is Wix?
Wix is a cloud-based website development platform
that provides a user-friendly and intuitive interface for creating and managing websites. It offers a range of templates, a drag-and-drop website builder, and various features such as e-commerce capabilities, mobile optimization, blogging tools, and an app market for adding functionality to websites. Wix is designed to simplify website creation and is suitable for individuals, small businesses, and organizations looking to establish an online presence without requiring advanced technical skills or coding knowledge. It offers both free and premium plans, making it accessible to a wide range of users, and handles website hosting, eliminating the need for users to find separate hosting services.
Wix offers a wide range of features that make it a popular choice for businesses, organizations, and individuals.

Wordpress vs Wix Features
WordPress and Wix are both popular platforms for creating websites, but they have different features and cater to different types of users. Here's a comparison of some key features of WordPress and Wix

Wordpress Features
WordPress is a widely-used content management system renowned for its user-friendly interface, theme flexibility, and extensive plugin support.
Originally a blogging platform, it excels in content management and offers robust SEO tools. With responsive design, media management, user role customization, and security features, it suits a broad range of websites. Multilingual support, e-commerce capabilities, and analytics integration enhance its functionality. WordPress boasts an active community and regular updates, ensuring continuous improvements. It caters to both personal blogs and complex corporate sites, supported by its versatile Gutenberg editor and REST API for developers. In essence, WordPress empowers users to create, customize, and manage websites efficiently.
WordPress is a great choice for anyone who wants to create a website without having to learn how to code. It is also a good choice for businesses and organizations that need a flexible and customizable CMS.
Here are some of the features of using WordPress:
User-Friendly Interface: WordPress offers an intuitive dashboard that allows users to easily create, edit, and manage content without needing extensive technical knowledge.
Customization: It provides a wide variety of themes and plugins, enabling users to customize the design and functionality of their websites to suit their specific needs.
SEO-Friendly: WordPress includes built-in SEO tools and plugins to help improve your website's search engine visibility.
Responsive Design: Most WordPress themes are responsive, ensuring your website looks and functions well on various devices, including smartphones and tablets.
Media Management: WordPress allows you to easily upload and manage images, videos, and other media files, making it ideal for content-rich websites.
Blogging Capabilities: Originally a blogging platform, WordPress still excels in this area, offering features like categories, tags, and scheduling.
User Management: You can create and manage multiple user roles and permissions, making it suitable for collaborative websites or membership-based platforms.
E-commerce Integration: Through plugins like WooCommerce, WordPress can power fully functional e-commerce websites with features like product listings, shopping carts, and payment processing.
Security: While no platform is entirely immune to threats, WordPress has a robust community that continually updates and improves security features to help protect your website.
Multilingual Support: WordPress supports multiple languages and can be easily translated, making it accessible to a global audience.
Regular Updates: WordPress regularly releases updates to improve performance, security, and features, ensuring your website stays up to date.
Community and Support: There is a vast WordPress community, along with extensive documentation and support forums, making it easy to find help and resources.

Wix Features
Wix, a highly popular website builder, empowers users with a host of user-friendly features to effortlessly craft and manage websites.
Its hallmark is the drag-and-drop editor, simplifying design without coding. Wix offers an extensive array of professionally designed templates and an App Market for seamless integration of third-party tools. The AI-driven Wix ADI creates personalized websites while ensuring mobile optimization.
E-commerce enthusiasts benefit from Wix Stores, a robust platform offering catalog management, payment processing, and sales analytics. SEO tools, media management, social media integration, and forms streamline content and engagement. Additionally, Wix provides analytics, domain hosting, multilingual support, security features, and custom coding options. Support and email marketing tools further enhance its versatility, making Wix suitable for a wide range of website needs.
Wix is a popular choice for businesses and individuals who want to create a website without any coding knowledge. It is also a good choice for businesses that need a website that is easy to update and maintain.
Here are some of the features of Wix:
Drag-and-Drop Website Builder: Wix's editor allows users to easily create and customize their websites by simply dragging and dropping elements onto the page.
Templates: Wix offers a vast selection of professionally designed templates for various industries and purposes, making it easy to start building your website.
Wix ADI (Artificial Design Intelligence): This tool uses AI to create a personalized website for you based on your answers to a few questions, simplifying the website creation process.
Mobile Optimization: All Wix websites are automatically optimized for mobile devices, ensuring they look and function well on smartphones and tablets.
App Market: Wix's App Market provides a wide range of third-party apps and integrations for added functionality, including e-commerce, marketing, and more.
Blog and Content Management: Wix offers a built-in blogging platform with features like scheduling, categories, and social sharing, making it suitable for content-rich websites.
E-commerce: Wix provides robust e-commerce capabilities, including product listings, shopping carts, payment processing, and inventory management.
Media Galleries: Easily create and manage image and video galleries, making it suitable for portfolios, photography websites, and more.
SEO Tools: Wix includes built-in SEO tools and guides to help improve your website's search engine visibility.
Forms and Surveys: Create and customize forms and surveys for gathering information and feedback from your website visitors.
Membership Sites: Wix allows you to create membership-based websites with restricted access to content, ideal for online communities and subscription services.
Social Media Integration: Seamlessly integrate your social media accounts and display feeds on your website to increase engagement.
Wix Ascend: A suite of marketing and business tools, including email marketing, CRM, and analytics, to help you grow your online presence and business.
Secure Hosting: Wix provides secure and reliable hosting with SSL certificates to protect your website and user data.
24/7 Customer Support: Wix offers customer support through various channels, including live chat, email, and a knowledge base.
Multilingual Support: Create multilingual websites to reach a global audience.
Custom Domains: Connect your own domain name to your Wix site for a professional online presence.
Analytics: Access detailed website analytics to track visitor behavior and make data-driven decisions.
Wix Editor X: For more advanced users, Editor X offers more design freedom and CSS capabilities.

Wordpress vs Wix Pricing
WordPress and Wix have different pricing models and options. Here's a comparison of their pricing structures:

Wordpress Pricing
WordPress offers a range of pricing plans to suit various website needs. Their offerings include a free plan with basic features, personal and premium plans with added customization options and custom domains, a business plan for more advanced features and e-commerce capabilities, and an e-commerce plan designed specifically for online stores. Pricing can vary depending on the plan and whether you opt for monthly or annual billing. Here are some of the key pricing details for WordPress.com:
Free Plan: Basic features with a WordPress subdomain (e.g., yoursite.wordpress.com).
Personal Plan: Starts at a $4 monthly fee, which includes a custom domain (e.g., yoursite.com) and some additional features.
Premium Plan: Offers more advanced features and customization options at $8 monthly.
Business Plan: Offers even more advanced features and e-commerce abilities for $25 each month.
E-commerce Plan: Specifically designed for online stores at $45 annually.

Wix Pricing
Wix offered a range of pricing plans, starting with a free plan with Wix-branded domain, followed by premium plans such as Connect Domain, Combo, Unlimited, Pro, VIP, Business plans, and custom Enterprise solutions. These plans catered to various website needs, from personal use to e-commerce and business requirements. Prices varied depending on features and resources. Here are some of the key pricing details:
Free Plan: Wix provides a free plan that allows you to create a basic website with Wix-branded domain (e.g., username.wixsite.com/siteaddress). This plan includes Wix ads and has limited storage and bandwidth.
Connect Domain: This plan allows you to connect your custom domain (if you have one) to your Wix site. It still includes Wix-branded ads at $4 annually.
Combo: The Combo plan is suitable for personal use and small businesses. It includes a free domain for one year, removes Wix ads, offers more storage, and provides additional features at $8 every month.
Unlimited: This plan offers more resources than the Combo plan, including more storage and bandwidth. It's ideal for larger websites with more content at $12 each month.
Pro: The Pro plan is designed for entrepreneurs and freelancers. It offers even more storage, a professional logo, and various marketing tools to help you promote your website at $24 monthly.

Wordpress vs Wix Plugins
WordPress and Wix both offer plugin systems to extend the functionality of your website. However, there are some notable differences between the two platforms when it comes to plugins:

Wordpress Plugins
WordPress plugins are add-on software components that enhance the functionality of your WordPress website. These plugins can extend your website's capabilities, add features, and improve its performance. Users can install and activate plugins to customize their websites according to their needs. There are thousands of
WordPress plugins
available, covering a wide range of functions, including SEO optimization, e-commerce, security, contact forms, social media integration, and more. When choosing plugins, it's essential to consider compatibility, updates, and user reviews to ensure they meet your site's requirements and maintain its stability. Popular Plugin include
Yoast SEO for search engine optimization
WooCommerce for e-commerce
Akismet for spam protection.
Elementor Kit for header and footer
Google Reviews for displaying Google Business Reviews on your WordPress website.

Wix Plugins
Wix offers a range of apps that serve as extensions to enhance your website's functionality. These apps cover various aspects, including e-commerce, marketing, design, communication, and more. Whether you need to create an online store, boost your site's SEO, engage with visitors through live chat, or manage appointments, Wix provides a marketplace of apps to meet these needs. You can easily add and customize these apps through the Wix dashboard, making it a flexible solution for tailoring your website's features. Here are some common types of Wix Apps and features you can use to enhance your Wix website:
Wix ADI (Artificial Design Intelligence)
Wix Editor
Wix App Market
Wix SEO Wiz
Wix Forum

Wordpress vs Wix Themes
WordPress and Wix both offer themes that allow you to customize the design and layout of your website, but they have some differences in terms of themes and customization options:

Wordpress Themes
WordPress themes are pre-designed templates that determine the visual appearance and layout of a WordPress website. These themes can be easily applied to your site, allowing you to change its look and feel without altering the website's core content or functionality.
There are thousands of
WordPress themes
available, ranging from free options to premium, customizable themes. Themes can cater to various website types and styles, such as blogs, e-commerce stores, portfolios, news sites, and more. . Themes often come with customization options to personalize colors, fonts, and other design elements to align with your brand or vision.
Popular Wix Themes include -
Astra
OceanWP
GeneratePress
Neve
Avada
Elementor

Wix Themes
Wix offers a diverse collection of professionally designed templates known as "Wix themes," serving as the building blocks for creating websites on their platform. These themes span a wide spectrum of industries and purposes, including business, e-commerce, portfolios, blogs, and more. Users can choose from a selection of both free and premium themes, each with its unique style and layout.
Wix's drag-and-drop editor empowers users to effortlessly customize their chosen theme, allowing for easy adjustments in colors, fonts, and layout without requiring any coding skills. These themes are inherently mobile-responsive, ensuring a seamless user experience across various devices. Moreover, users can enhance their website's functionality by integrating apps from the
Wix App Market
. With Wix themes, users of all skill levels can create visually stunning and functional websites tailored to their specific needs and preferences.
Some Popular Wix Themes include -
Architecture
Business
E-commerce
Photography
Restaurant
Travel
Conclusion:
Ultimately, the best choice for you will depend on your needs and preferences. If you are looking for an easy-to-use platform with a drag-and-drop interface, then Wix is a good option. If you need more flexibility and customization, then WordPress is a better choice.
We recommend WordPress if you require advanced customization options and Wix if you want something simple to use with no technical knowledge.
---