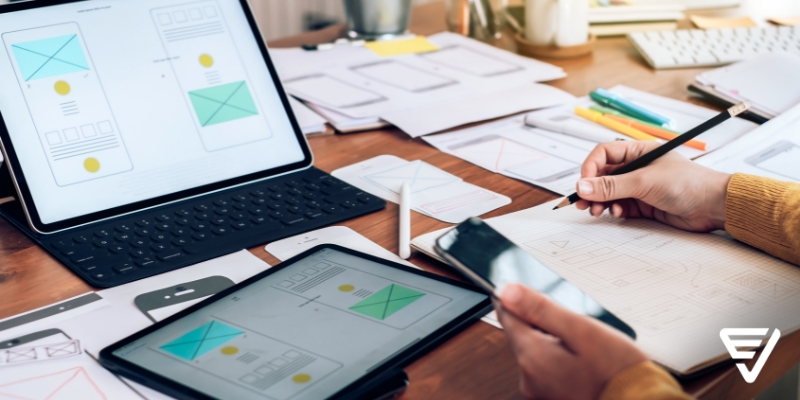 Website Design Ideas For Beginners - A Complete Guide
In today's digital age, a website is an essential tool for businesses, organizations, and individuals alike. It serves as a virtual storefront, a platform for showcasing products or services, and a means of connecting with a global audience. However, for beginners venturing into the world of website design, the task can seem daunting. With an abundance of design principles, technical considerations, and aesthetic choices, it's easy to feel overwhelmed.
Fear not, aspiring website designers! This comprehensive guide will equip you with the knowledge and inspiration to create a website that is both visually appealing and user-friendly. Whether you're building a personal blog, a business website, or an online portfolio, these practical tips will help you navigate the design process with confidence.
1. Laying the Foundation - Understanding Website Design Principles
Before diving into the nitty-gritty of design elements and layout, it's crucial to grasp the fundamental principles that underpin effective website design. These principles serve as a framework for creating a website that is not only visually attractive but also functional and engaging.

1. Simplicity and Clarity
Strive for a clean and uncluttered design that doesn't overwhelm visitors. Use ample white space, prioritize essential elements, and avoid excessive visual noise.

2. Visual Hierarchy
Create a visual hierarchy that guides the user's eye through the content. Use size, contrast, and color to emphasize important elements and prioritize information.
3. Consistency and Balance
Maintain consistency in typography, color palettes, and design elements throughout the website. This creates a sense of harmony and visual balance.
4. Responsiveness and Adaptability
Ensure your website adapts seamlessly to different screen sizes and devices. Responsive design ensures a consistent user experience across desktops, tablets, and mobile phones.
2. Crafting a User-Friendly Interface - Prioritizing User Experience
A website's success hinges on its ability to provide a positive user experience (UX). UX design focuses on creating an intuitive, easy-to-navigate interface that caters to the needs and expectations of users.

1. Clear Navigation
Implement a clear and consistent navigation structure that allows users to easily find the information they seek. Label navigation menus clearly and use intuitive icons or breadcrumbs to guide users through the website's hierarchy.

2. Intuitive Interactions
Design interactive elements that are intuitive and responsive. Use clear labels, consistent behavior, and appropriate feedback mechanisms to ensure a smooth user experience.
3. Accessibility
Make your website accessible to a wide range of users, including those with disabilities. Follow accessibility guidelines to ensure that everyone can navigate your website easily and effectively.
4. Mobile Optimization
Optimize your website for mobile devices, considering smaller screen sizes, touch interactions, and mobile-specific design patterns.

3. Visual Appeal - Enhancing the Aesthetic Experience
While functionality is paramount, visual appeal plays a significant role in engaging visitors and creating a lasting impression. Use design elements and color palettes strategically to enhance the aesthetic experience of your website.
1. Typography
Choose fonts that are both aesthetically pleasing and readable. Consider font weight, size, and contrast to ensure optimal readability across different devices.
2. Color Psychology
Leverage color psychology to evoke desired emotions and set the tone for your website. Understand the symbolism and associations of different colors to create a cohesive and impactful color scheme.
3. Imagery and Visual Content
Use high-quality, relevant images and visual content to enhance the visual appeal of your website. Ensure images are optimized for web viewing and complement the overall design aesthetic.
4. White Space
Employ white space strategically to create a sense of balance and prevent the website from feeling cluttered. Use white space to highlight important elements and guide the user's eye.

4. Call to Action - Guiding Users to Take Action
A website's goal is often to inspire action, whether it's making a purchase, subscribing to a newsletter, or contacting the business. Clear and compelling calls to action (CTAs) are essential for guiding users towards the desired actions.
1. Prominent Placement
Position CTAs prominently throughout the website, ensuring they are easily visible and accessible to users.
2. Clear and Concise Wording
Use clear, concise wording for your CTAs that clearly communicates the desired action. Avoid vague or ambiguous language.
3. Contrasting Design
Design CTAs that stand out from the surrounding content using contrasting colors, shapes, or sizes. This draws attention and encourages user interaction.
4. Strategic Placement
Place CTAs strategically throughout the website, considering user behavior and where they are most likely to be receptive to taking action.

5. Inspiration and Resources - Expanding Your Design Horizons
The world of website design is constantly evolving, with new trends, technologies, and design approaches emerging regularly. To stay ahead of the curve
and create truly innovative websites, it's essential to seek inspiration and expand your design horizons.
1. Explore Design Galleries and Inspiration Websites
Immerse yourself in the works of other designers by browsing design galleries and inspiration websites such as Behance, Awwwards, and Dribbble. These platforms showcase a wide range of website designs, from minimalist and modern to bold and experimental.
2. Follow Design Blogs and Websites
Stay up-to-date with the latest design trends and techniques by following design blogs and websites such as Designmodo, Web Design Shack, and Smashing Magazine. These resources provide valuable insights, tutorials, and case studies to enhance your design skills.
3. Attend Design Events and Workshops
Participate in design events, conferences, and workshops to network with fellow designers, learn from industry experts, and discover new design tools and technologies.
4. Experiment with Different Design Tools
Familiarize yourself with various design tools and software, such as Figma, Sketch, and Adobe Creative Suite. Experimenting with different tools can broaden your design capabilities and introduce new creative possibilities.
5. Seek Feedback and Critique
Share your work with other designers, mentors, or experienced professionals and seek feedback and critique. Constructive criticism can help you identify areas for improvement and refine your design approach.

6. Putting It All Together - Creating Your Website
Armed with the fundamental principles, user-centric considerations, and aesthetic elements, you're ready to embark on the journey of creating your own website. Here's a step-by-step guide to help you bring your vision to life:
1. Define Your Goals and Target Audience
Clearly define the purpose of your website and identify your target audience. This will guide your design decisions and ensure your website effectively meets the needs of your intended users.
2. Create a Site Map and User Flow
Develop a site map that outlines the overall structure and hierarchy of your website. This will help you organize content logically and ensure easy navigation for users.
3. Sketch and Prototype Your Design
Start by sketching out your design ideas and creating wireframes or low-fidelity prototypes. This allows you to visualize the layout and functionality of your website before diving into the details.
4. Choose a Design Template or CMS
Decide whether to use a pre-designed website template or implement a content management system (CMS) like WordPress. Templates provide a starting point, while CMS offer more flexibility and customization.
5. Develop the Visual Design
Apply your knowledge of typography, color palettes, and imagery to create a visually appealing and consistent design. Ensure your design aligns with the overall tone and message of your website.
6. Optimize for Search Engines
Implement search engine optimization (SEO) techniques to improve your website's visibility in search engine results pages (SERPs). This includes using relevant keywords, optimizing page titles and descriptions, and building backlinks.
7. Test and Refine Your Website
Thoroughly test your website across different browsers and devices to identify and fix any bugs or usability issues. Gather feedback from real users and refine your design accordingly.

Conclusion
Website design is a dynamic and ever-evolving field. As you gain experience and delve deeper into the world of web design, you'll discover new techniques, explore innovative trends, and continuously refine your skills. Embrace the continuous learning process, stay curious, and never stop experimenting with new ideas. With dedication and passion, you can create websites that not only look stunning but also provide a truly exceptional user experience.
---