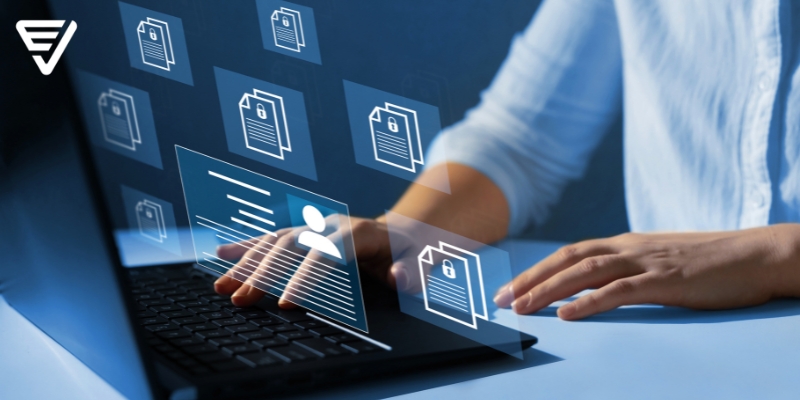 Top 20 Trends And Predictions In The Future Of IoT
The landscape of technology is vast and IoT stands as a pivotal force in shaping the way we interact with the world around us. Technologies are already changing the world in impossible ways that make us wonder what's next to come up. As we keep our gaze on the future. It becomes imperative to unravel the intricate tapestry and predictions that define the next chapter of IoT innovation.

Top 20 Trends and Predictions of IoT
The tapestry of innovations unfolds new dimensions. These witness the integration of 5G revolutionizing data transfer speeds, the dominance of Edge Computing enhances efficiency and the pivotal role of blockchain to fortify IoT security. Dive into the evolution of smart cities as the transformative impact of IoT in agriculture as the rise of voice-activated devices, that reshape human-machine interactions.

1. IoT in 5G Connectivity
The arrival of 5G is not just about speed, it's about enabling a new era of connectivity. With the faster data transfer, 5G will facilitate the proliferation of IoT that enables a massive number of devices to connect simultaneously. This becomes pivotal for applications that demand real-time responsiveness like autonomous vehicles and smart healthcare devices. This reduced latency reshapes the communication of devices and unlocks the possibilities for innovations that we can't fully fathom yet.
2. IoT in Edge Computing Dominance
Edge computing is not just a solution for data overload, it's a paradigm shift in the way people process information. The surge in reliance on edge computing isn't just solely driven by the need for efficiency, it's about the strategic movement of empowering IoT devices with real-time decision-making capabilities. By processing the data closer to the source, edge computing reduces latency and also enhances privacy and security by addressing the concerns that are often been surrounded by centralized data processing.

3. AI and Machine Learning Integration in IoT devices
AI and machine learning evolve as a profound collaboration that evolves into a profound collaboration. It's not only about smart devices, it's about devices that understand, learn, and adapt. This integration of machine learning algorithms in IoT devices revolutionizes the user experience. It predicts user preferences and adapts to a dynamic environment. These devices become intelligent companions to make technology an intuitive and integral part of our lives.

4. IoT for Enhanced Security Measures
As we see IoT ecosystems expanding, the threat of landscapes also grows in tandem. It has enhanced security measures that aren't about building stronger walls, but about creating a fortified ecosystem. The future of IoT systems employs all the advanced encryption algorithms like secure bootstrapping processes and continuous monitoring to prevent cyber threats and also for swiftly detecting and neutralizing potential breaches.
5. Blockchain for IoT Security
The integration of blockchain in IoT security is a testament to the commitment to data integrity and device identity. It leverages the decentralized and tamper-resistant nature of blockchain, IoT networks will establish all the trust of devices and ensure the integrity of the data exchanged. This isn't just about security enhancement but a paradigm shift of transparent, trustworthy, and accountable IoT ecosystems.
6. Interoperability Standards
The lack of standardized protocols has been a stumbling block in the path of IoT's seamless growth. It has an emphasis on interoperability standards and is not just a technical solution, it's a strategic move for creating a unified IoT landscape. It has diverse device coverage and universal standards will be a glue that binds them together. It fosters an ecosystem where devices can communicate seamlessly, regardless of their origin.

7. Edge AI for Real-Time Processing
The evolution of edge AI is not only about the processing power, it's about autonomy. It emphasizes local computation and works as a response to bandwidth limitations. It also works as a strategy for making real-time decisions. The future of IoT envisions devices collecting data and also interpreting you to act on it at the edge reducing the dependency on some centralized servers to ensure responsiveness in real-time.
8. IoT in Healthcare
IoT in healthcare doesn't only work for remote patients, it's about transforming patient care. It has smart medical devices that provide real-time health data to predictive analytics that enhance diagnostics. In short, the future of healthcare is intertwined with IoT. This integration is not just a technological advancement but a paradigm shift towards a more personalized, efficient, and accessible healthcare system.
9. IoT in Smart Cities Evolution
Evolution is not just about empowering the cities with technology, it's about redefining urban living. IoT becomes a linchpin in creating cities that are connected and intelligent. It optimizes traffic flow for efficient waste disposal. Smart cities of the future prioritize sustainability, resource efficiency, and the well-being of their citizens.
10. IoT in Environmental Monitoring
The role of IoT in environment conservation goes beyond monitoring, it's about creating a data-driven approach to sustainability. There are smart sensors to track air and water quality, soil health, and wildlife habitats to provide insights for informing policies and practices. The emphasis of environmental monitoring is a commitment to use technology as a tool for an optimistic global impact.
11. IoT in Agriculture
The agriculture sector has also been revolutionized, known for optimizing resources... it's a strategic move towards sustainable farming. IoT technologies empower farmers with real-time data on crop health, soil conditions, and resource usage. This is not just for increasing productivity but for ensuring that agriculture is not just efficient but also environmentally responsible.

12. Human Augmentation with IoT
With wearable devices and implantables, it's not just about convenience it's about enhancing human capabilities. Integrating IoT in human augmentation is not just a technological leap; it's a transformative shift in how we perceive the relationship between humans and technologies. It starts from prosthetics to brain-computer interfaces, IoT doesn't just assist but augments human potential.

13. IoT in Retail
The transformation of retail experiences is about efficiency and creating personalized recommendations for seamless interactions. IoT-enabled solutions are not just retail but it's about inventory management, they're about redefining the entire shopping experience. It gives personalized recommendations and streamlined checkout processes through their smart devices. The future of retail is to leverage IoT to create a customer-centric, tech-enhanced journey.
14. Autonomous Vehicles and IoT
The synergy of IoT and autonomous vehicles with self-driving cars is about to reimage transportation. IoT will be there as a backbone of smart traffic management, predictive maintenance, and real-time communication with vehicles. This is creating technological advancement and creates a paradigm shift toward safer, more efficient, and interconnected mobility.
15. IoT in Energy Management
The revolution of energy management is about efficiency and about creating a sustainable future. It transforms the way we consume energy from smart grids and optimizes distribution to connected appliances to reduce wastage. This is not about technological upgrades but a strategic move towards a world where energy is used efficiently and well-conserved.
16. IoT in Augmented Reality (AR) Integration
IoT's collaboration with devices and augmented reality is about creating an immersive experience and redefining user interactions. It has smart glasses to provide real-time information and AR-enhanced navigation with a fusion of IoT and AR just like a technological leap. It is a paradigm shift in how we perceive and interact with the digital and physical worlds.
17. IoT in Quantum Computing
The impact of quantum computing on IoT is about solving problems and redefining the foundations of computation. As a quantum to computing advances, it optimizes algorithms and revolutionizes the way IoT systems process information. This upgrade is a quantum leap toward a future where computing power is beyond our current comprehension.

18. Voice-Activated IoT Devices
With the rise of voice-activated IoT devices, it's all about convenience and redefining human-machine interactions. The emphasis on improved natural language processing and voice recognition technologies is a technological upgrade and a shift towards more intuitive, user-friendly interactions. It has smart homes and virtual assistance as the future of IoT for devices that are not only good to understand but also to respond to our voices.
19. IoT in Robotic Process Automation (RPA)
The integration of IoT with robotic process automation is about efficiency in the industrial process and reimagining the future of work. It streamlines the processes by reducing errors and enhancing productivity, the collaboration of IoT and RPA is a technological advancement and a strategic move towards a more efficient and automated future in manufacturing and other sectors.
20. IoT in Ethical Considerations
As we see IoT becoming omnipresent, the emphasis on ethical considerations is a fundamental principle. Addressing concerns related to data privacy, security, and responsible technology that uses regulatory requirements and ensuring that innovation aligns with ethical standards. It strikes a balance with innovation and ethical considerations that isn't just a challenge but a responsibility that will define the success of IoT in shaping the connected future.

Current Scenario of IoT
In the current dynamics, the IoT has become more pervasive to influence diverse domains. Smart homes boost advanced automation, security, and energy optimization. Wearable technologies prioritize health monitoring and real-time delivery of data. Healthcare leverages IoT for remote patients with its smart medical devices. Industrial IoT ensures efficient operations through predictive maintenance and supply chain optimization. In smarter cities, IoT drives advancements in traffic management, waste reduction, and overall enhancement of urban living.
1. IoT in Smart Homes
Homes these days are also met with smart technology like Google Homes for seamless living. It has automated lights, advanced security features, etc. These homes are made to give ultimate comfort and efficiency. Integrated voice assistants and smart applications contribute to a better way of living.
IoT transforms homes with advanced lighting control, smart locks, and automated window treatments with integrated voice-activated assistants.
Security systems go beyond cameras for incorporating smart alarms and enhanced features for complete home protection.
Smart thermostats optimize energy and other connected devices including refrigerators and ovens to offer convenience and efficiency.
2. IoT in Wearable Technology
Wearable technology meets personal well-being. It has already evolved with fitness trackers and smartwatches with an integrated IoT for continuous health monitoring and real-time data delivery. Wearables give instant notifications and smart responses that seamlessly enhance user engagement and connectivity for the pursuit of a healthier and more connected lifestyle.
Wearables have fitness trackers and smartwatches to leverage IoT for continuous health monitoring and in-depth activity tracking.
With the real-time delivery of data, you get instant notifications as a smart response to enhance user engagement and connectivity.

3. IoT in Healthcare industry
The integration of Internet of Things (IoT) technologies is reshaping patient care and medical processes. For getting more streamlined patient monitoring with smart medical devices and innovative medication adherence solutions, IoT fosters a paradigm shift in more personalized, efficient, and data-driven healthcare experiences.
IoT in healthcare enables remote patient monitoring, smart medical devices, and optimized healthcare processes.
Smart wearables extend monitoring beyond traditional devices and medication adherence is tracked with the evolution of smart inhalers and dispensers.
4. Industrial IoT (IIoT)
With the intricate web of industrial operations, the Industrial Internet of Things (IIoT) comes out as a catalyst for unprecedented advancements. IIoT enhances operational efficiency and also lays the foundation for a smarter and interconnected industrial landscape.
IIoT focuses on predictive maintenance and gives real-time monitoring of equipment and supply chain optimization with overall operational efficiency.
Integration of machine learning with prescriptive maintenance and blockchain enhances the capabilities of IIoT in industrial settings.
5. IoT in Smart Cities
Smart cities come out as a beacon of innovation and sustainability. This integration of Internet of Things (IoT) technologies is coming out in propelling cities as a future where interconnected systems seamlessly enhance our daily lives.
Cities implement IoT for smart traffic management, waste management, energy efficiency, and environmental monitoring for urban living enhancement.
Technologies include integrated public transportation, sensor-enabled waste bins, and some distributed energy-related resources for sustainable urban development.
The future of IoT is a series of trends; and a symphony of interconnected advancements shaping the way we live and work. From the speed of 5G to ethical considerations, it's about creating a harmonious landscape where technology serves humanity. Let's appreciate the orchestration of a connected, intelligent, and ethical world. The stage is set and the future of IoT awaits its role in shaping our collective tomorrow.
---