TOP SEVEN QUALITIES OF A SUCCESSFUL MOBILE APPLICATION DEVELOPMENT COMPANY IN 2022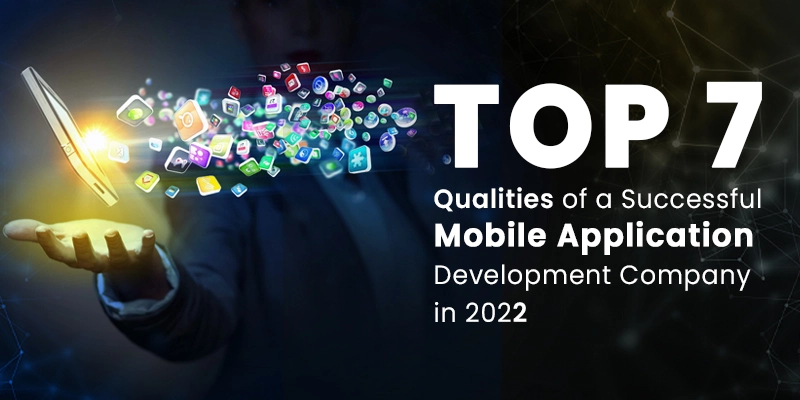 | (0) Comments |Author :Exavibes Services
TOP SEVEN QUALITIES OF A SUCCESSFUL MOBILE APPLICATION DEVELOPMENT COMPANY IN 2022
Are you planning to build a mobile application for your business? Do you want to get it done by the best team of professional developers? Are you looking for the best mobile application development company to build a world-class mobile app for your company? If the answer to all these questions is positive, you are reading the right post.
In a world where we can find developers everywhere, finding the right and best mobile app developers in Mumbai is a tough task. Building a mobile application is not just about development, it is about understanding your business requirements and empowering your business by building a successful app. After all, building an app involves time, effort, and money. The decision must be taken after looking at all the feasible options most importantly, a company that has all the qualities that makes it the right choice, must be chosen to build the mobile application.
TOP SEVEN QUALITIES OF A MOBILE APPLICATION DEVELOPMENT COMPANY

Portfolio
There are reasons people look for feedback and reviews. It creates trust. Every good and experienced app development company has a proven track record for its prospects to refer to. Testimonials and feedback from its past clients, case studies of the apps developed, and a portfolio showing the clients it has worked with and the kinds of apps it has developed, help in laying the foundation of trust in the company's abilities to create the right app for your business.

Expertise
Only an expert developer can create an impressive mobile application. The first and foremost thing you must look for in a
mobile application development company
is its team's technical expertise and experience. Look up their website for team details and in-house experts. If the company works around developing the skills of its employees through regular workshops, webinars, or online courses, it proves that the team is updated with the latest tools, practices, and skills in mobile app development. These little pointers will help to ascertain if the company is capable to create a bug-free, efficient, and well-designed mobile app or not.

Cross-Platform development
Hiring experts in cross-platform development means you will not have to hire another company or team if you wish to develop your app on different platforms. You can delegate the task to the same company which can sync and reuse the existing codes on different platforms. This not only saves time but also a lot of money.

UI/UX design skills
The success of any mobile application largely depends on its user interface and the user experience it offers. With competitors having similar services and apps, it is imperative to have an attractive and engaging UI to attract users and increase user attention.

Strategic planning of the app development process
A good mobile application development company will always decide upon different development stages, time-taken and tools and techniques to be used at each stage, in advance. Mobile app development requires extensive research and planning before the development process begins. A company that knows its job will never proceed without a plan. It also includes app testing as a phase in the entire delivery process to identify any possible glitches and vulnerabilities in the app and resolve them before it is launched.

Focus on end-user satisfaction
The success of a mobile app depends on how satisfied the users are, after using it. A thorough understanding and analysis of end users' needs, and expectations should be a part of the development process of any good mobile application development company. If a company skips this step, it only means it is less concerned about the success of your app.

Post development support
After-care service (i.e.) support post development is one of the key factors that distinguish an average company from a dedicated, dependable, and good company. A good mobile application development company will always consider its clients as its partners and ensure not just the creation of a good app, but also, the successful working of the app. If the company does not handhold until the seamless working of the app and later, it surely cannot be the right choice.
---