TOP FIVE WEBSITE DEVELOPMENT COMPANIES IN INDIA IN 2022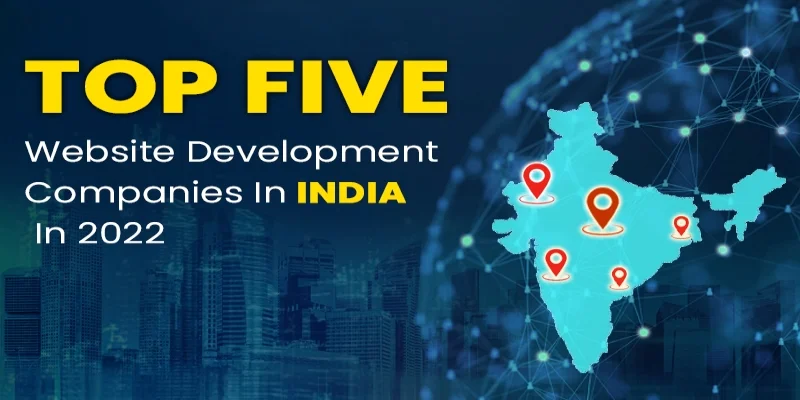 | (0) Comments |Author :Exavibes
Want to go digital? Looking for a
website development company
to help you create an effective online presence? Your first step to digital transformation is creating an official website that not only gives you an online presence but also draws business. For a majority of start-ups, the launch of their website is the launch of their business. Having a website adds to the authenticity, reliability, and brand value of your business and establishes instant communication with a global audience. With the advancement of technology, it becomes important to have a scalable, growth-oriented, and secure website. However, as much as a website is important for your business, as difficult it is to choose the right company to develop your website. Here, we have tried to ease your process by recommending the top five web development companies in India.
1) Cyber Infrastructure Pvt. Ltd
Founded in 2003 in Madhya Pradesh, Cyber Infrastructure Pvt. Ltd. is an ISO 9001:2015 company providing website design/development, mobile application development, game development, software development, AI solutions, and data consulting services. With CMMI Level 5 quality certification and Microsoft Gold Partner certification, the company is known to be one of the most trusted providers of end-to-end IT solutions globally. It was also appointed as a member of the Forbes Technology Council in 2021. Some of their prestigious clients are BCG, Amcor, eBay, Nokia, and Worldvision, to name a few.
Why choose Cyber Infrastructure for
website development
?
Cross Platform interfaces
Convenient content management
24/7 Access to real-time information
Data security
Scalability and optimum performance
Enhanced user engagement
Offices: India, USA, Singapore, UK
2) TIS India
Established in 2006 in Noida, TIS India is one of the rapidly growing companies in the field of digital marketing solutions. They provide a plethora of services like
Web development
, eCommerce development,
mobile application development
, digital marketing, Branding and Identity,
CMS Development,
and many more, to cater to all technology-related requirements of a business. Professionalism, skills, and expertise are their key strengths that has enabled timely, quality, and cost-effective delivery to their clients across the globe. Some of their prestigious clients include Omron Healthcare, Ramco Steels, GS1 India, Hindustan Zinc, Sharda University, and many other medium and large enterprises and government organizations.
Why choose TIS India for website development?
Engaging user interfaces
Accreditations from various platforms such as AWS, Google Partner, Shopify, NASSCOM, WooCommerce, etc.
Customized approach
Variety of plugins to improve user experience and functionality
Budget-friendly
Offices: India, USA
3) Exavibes
Established in 2017, Exavibes is a Mumbai-based, young IT services company, specializing in mobile and web applications development. Whether you need a corporate website, a B2B website, or an eCommerce website, they offer it all, right from designing and development to website maintenance services. They are also one of the trusted companies for eCommerce development, UX/UI Design, custom software development, and digital marketing solutions. In just a span of 6 years, they have worked with globally renowned brands like ICICI, ITC Limited, Hindustan Unilever, TV Mall, and many more.
Why choose Exavibes for website development?
Highly customized web design solutions complementing brand identity and guidelines with eye-catchy interfaces
Variety of plugins/add-ons to enhance the usability
SEO ready and responsive designs
Wide choice of eCommerce platforms such as Shopify, WooCommerce, Magento, Drupal
Easy to navigate interfaces, improving user experience
Multiple payment gateway options
Highly comprehensive data tracking to provide deep insights about users, searches, popular products, etc.
Offices: India, South Africa, USA, England
4) PixelCrayons
Established in 2004, PixelCrayon is a well-known IT company based in Noida with expertise in software consulting, web development,
mobile application development
, and eCommerce development. It is an ISO 9001:2008 certified company envisioned to provide customer-centric, result-oriented, and cost-competitive IT and software solutions to its clients. They have more than 6000 clients from various business segments such as BFSI, Education, Healthcare, Retail, Travel, Media, and Software. Some of them are HP, Infosys, Citigroup, Adobe, eBay, Puma, Morphy Richards, Qatar Airways, and the list goes on.
Why choose PixelCrayons for your website development?
Cross-platform compatibility
Scalable and future-oriented websites
On-time delivery
Exceptional User Interface
High visitor engagement
Multiple payment gateway options
Offices: India, USA, Australia, UK
5) Techuz Infoweb Pvt.Ltd.
Established in 2012, Techuz Infoweb is now known among the most promising web and mobile solutions providers. It was listed in the top 1000 B2B global IT companies in 2018 and was awarded as one of the top web developers in 2019. It offers a wide range of IT services from
web development
, cloud,
mobile application development
, UX/UI design, artificial intelligence, and software development. It has worked with companies and has a strong global clientele with Get Litt, Play More Tennis, Mr. Button, and Job Bookers being a few of them.
Why choose Techuz Infoweb for website development?
Contextual UX/UI for better usability
Appropriate architecture
Multiple plugins and features to enhance user experience
Customize third-party tools for inventory management, shipment, and order management on eCommerce websites
Ability to handle the high load during a traffic surge
Offices: India, USA, Singapore
Through this list you can explore the right website to suit your business requirements and the company that can help you achieve this goal.
---