TOP 5 WAYS TO GENERATE INCOME THROUGH YOUR WEBSITE/APP/BLOG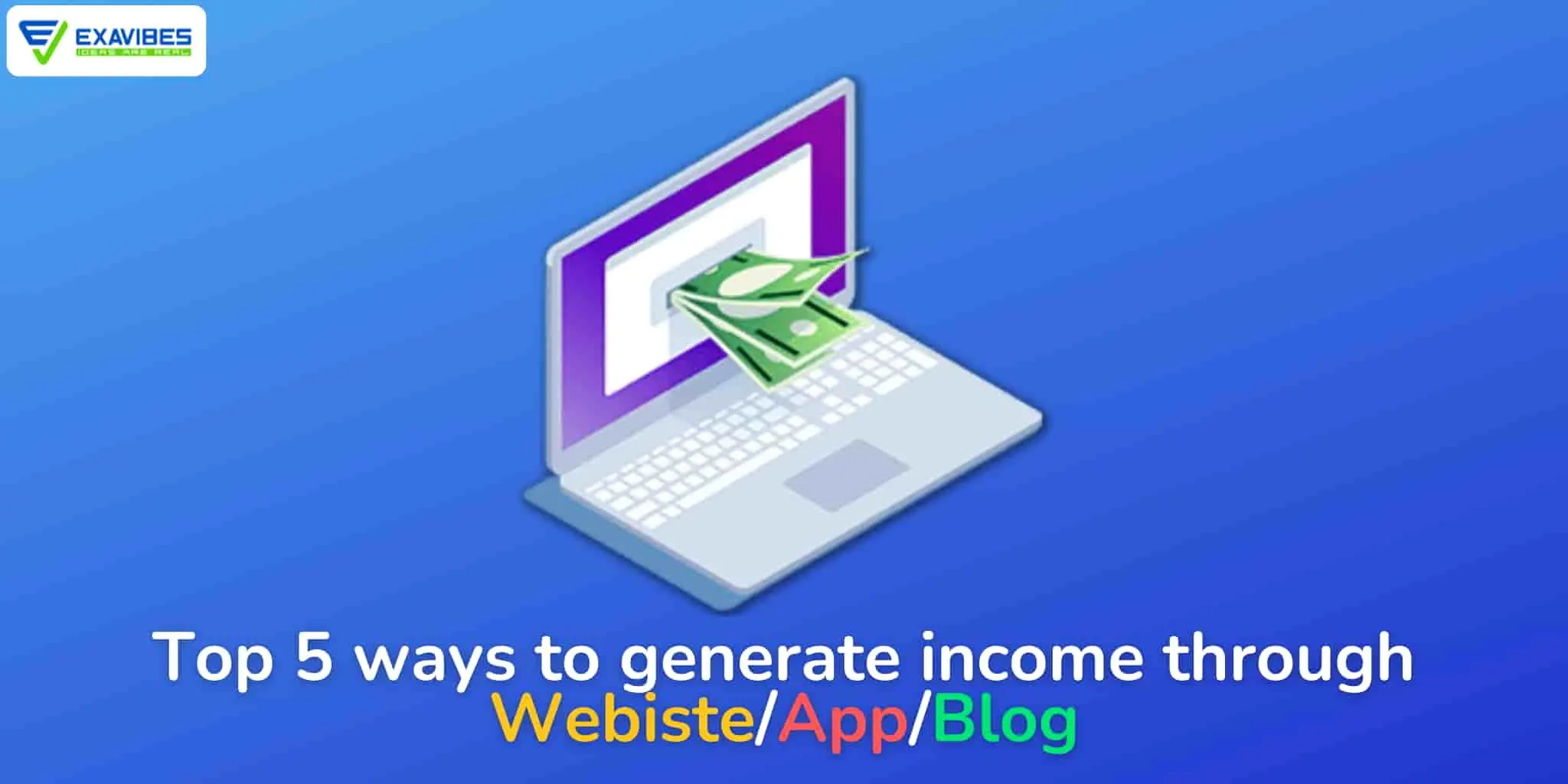 | (0) Comments |Author :Exavibes Services
TOP 5 WAYS TO GENERATE INCOME THROUGH YOUR WEBSITE/APP/BLOG
"There's never a limit to what you can do when you do it on an unlimited platform"
That's the wonder a website, a blog, or an app can do for you, whether you are a company, a professional, or a personal blogger. It opens the doors to that extra income, which eventually becomes a great alternate source of money flowing into the purse. Yes, making money through websites, blogs, and apps is a reality and you can well do that. Here are some quite simple but measurable ways to make money through your website, blog, or app. With your quick adaption, learning, and creativity, you can turn your website, blog, or app into a money-generating asset.
FIVE BEST WAYS TO MONETIZE YOUR WEBSITE / BLOG / APP
"Pay Per Click" (PPC) Advertising – Google AdSense
Google senses what products best fit to be advertised on your website/blog, depending on the content and audience, and starts displaying advertisements of the identified products on your website/blog. And you get paid for every click the ad gets through your website. So, get there and start getting traffic to your website because the more the traffic, the heavier your purse gets through these PPCs. Before applying for
Google AdSense
, make sure you read the Terms and Conditions mentioned.
Affiliate Marketing is one of the most popular and the quickest ways to make some extra money from your existing website or blog. All you need to do is identify which products you can relate to and would like to promote to your audience. For example, if you have a website offering beauty products, you may want to promote health products for women, as they would match with your audience and give value to your audience. Just give a recommendation link of the product on your website and you get paid for every sale generated through your link. Many companies pay up to 50% of the product or service price as a commission.
Advertisements have transformed from outdoor billboards and hoardings to virtual ones. You just have to designate a space on your website or blog (sidebar, bottom bar, etc.) for banner ads and sell this space to companies that advertise their products on your space. Simple. And just like Google AdSense, the more the traffic, the heavier your kitty. Companies usually pay anything between 50 paise to one rupee per impression or view. So, if you have 10,000 views of your website, you can make up to Rs.10,000 by just placing an ad on your web space.
Qualified Lead Generation
Qualified leads are the most important assets for any company that wishes to sell its products or services because less time is needed in the creation and filtering of leads. You can be that 'Go-To' for a lot of businesses that look for ways to reach out to the most appropriate audience through alternate sources. For example, if you have a blog or website on science experiments and hacks, the visitors to your website can be great qualified leads for online education companies. Or if you have a blog that speaks about health, the information of your readers (email address or contact number) can be of immense value to a company that sells health products online. So, you don't advertise, you just share your visitor information with these companies and get paid for no extra work! Get going and make that email list today!
Promote In-app Ad Revenue
Have you ever experienced seeing random ads while using one of your favorite apps? In-app ads work just like websites, where companies can place their ads on your apps. This surely needs a lot of ground strengthening work to be done for increasing your app users, but, once your app gets there, there is no limit to how much you can earn by just placing ads for other companies in your app. Just don't forget the thumb rule that bombarding your users with ads may lead to some resentment for the users. So, make sure you don't go overboard in showing ads on your app.
The above strategies are all measurable, doable, and easy ways of turning your website, blog, or mobile app into an alternate income generator, but remember, all of these need you to work hard to draw traffic, create users and create a trust factor for your audience. If you are ready for that initial hard work, you will be ready for the smart work eventually!
Have a saleable range of services or products? But don't have a website or an App? Or want a blog series to be written for you.
Get in touch with
Exavibes
. We will help you create one now. Reach
us at
Sales@exavibes.com
and share with our team of experts your requirement in detail.
Exavibes is one of the top website and mobile development companies in Mumbai, India. We can provide you with an entire range of services from creating a company website to an eCommerce setup to mobile application development.
---