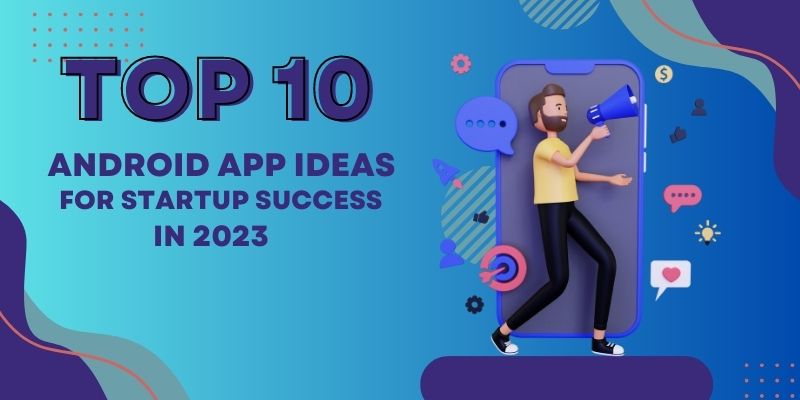 Top 10 Android App Ideas For Startup Success In 2023
| Author :Exavibes Services
Do you want to create an Android app as a startup? You're in luck if so! There are numerous fantastic Android app concepts that can support the development of a successful business. In this article, we'll talk about some of the most well-liked Android app ideas for new businesses and offer some advice on how to pick the best one.
Android App Ideas For Startups
Here are the Top 10 Android Application Ideas for Startup Success in 2023
1. Virtual Health Assistant App:
Imagine a virtual health assistant app that acts as a personal health coach, powered by AI. The software creates customized health programs based on the objectives, dietary preferences, and medical history entered by users. It keeps track of dietary choices and workout regimens and even provides virtual doctor consultations. With real-time monitoring, users may see their development in real-time.
Example: "HealthBuddy" is a virtual health assistant that curates fitness routines, monitors vital signs, and offers expert advice through video consultations.
2. Sustainable Living Tracker App:
Adopt an eco-conscious lifestyle with an app that teaches about and rewards users for taking care of the environment. The program measures carbon footprints, offers eco-friendly substitutions, and gives users a place to showcase their accomplishments.
Example: "Sustainable Living" is a sustainable living app that offers challenges like reducing plastic usage and commuting sustainably, while users earn virtual badges for hitting milestones.
3. Remote Work Collaboration Platform App:
Use an app that combines communication, task management, file sharing, and video conferencing to enable fluid remote cooperation. The tool fosters togetherness among distant teams by improving productivity and communication.
Example: "TeamSync" is a collaboration app that merges task lists, real-time communication, and virtual whiteboards, streamlining remote project management.
4. Personalized Learning Companion App:
Imagine a learning app driven by AI that customizes its material based on the interests, learning preferences, and development of its users. The app's algorithms choose interactive modules, quizzes, and lectures based on user choices.
Example: "Infinilearn" is an app that analyzes user interactions to craft personalized learning paths, making education engaging and effective.
5. Augmented Reality Entertainment App:
With an app that combines augmented reality with entertainment, you can experience storytelling like never before. Interactive storybooks, instructional games, and narrated virtual tours are all available to users.
Example: "ARQuest" is an app that turns physical books into 3D pop-up adventures, enabling children to engage with stories in captivating new ways.
6. AI-Powered Fashion Advisor App:
Utilise an app with AI and fashion knowledge to unleash your inner fashionista. Users submit pictures of their attire, and the app makes suggestions for improvements, assisting them in creating chic ensembles.
Example: "AI UTA" is an app that analyzes users' clothing choices, identifies trends, and recommends accessory pairings for a complete look.
7. Food Waste Reduction App:
Promote sustainability by bringing together consumers and nearby businesses via an app that cuts down on food waste. Restaurants and retail establishments may offer extra food at a discount, and customers can make environmentally friendly choices.
Example: "Olio" is an app that alerts users when nearby eateries have surplus food available, ensuring that excess food finds its way to those who need it.
8. Mental Health and Meditation App:
With a complete app that offers guided meditation sessions, mood monitoring, stress-relieving methods, and access to licensed therapists for full assistance, prioritize your mental health.
Example: "Calm" is an app that offers a library of mindfulness exercises, tracks users' emotional well-being, and facilitates virtual therapy sessions.
9. Smart Home Energy Management App:
Use an app that connects to IoT devices to embrace the smart home revolution by optimizing energy use and giving consumers information about how to lower their carbon impact.
Example: "Smart Light Smart Home Control" is an app that syncs with smart appliances, analyzes usage patterns, and offers energy-saving recommendations to reduce utility bills.
10. Language Learning through Immersion App:
A language study program that uses augmented reality will transform the way you learn languages. An immersive learning environment is created when users point their devices at items to learn their names in a foreign language.
Example: "The Ling" is an app that transforms everyday objects into language learning opportunities, enhancing vocabulary acquisition through real-world immersion.
Conclusion:
These are just a few of the many great Android app ideas for startups. When choosing an idea for your business, it's important to consider your target audience, the problem you're solving, the competition, and your unique selling proposition. By doing your research and choosing the right idea, you can increase your chances of success in developing an Android app for your startup.
---