TIPS TO KEEP IN MIND WHEN CHOOSING CUSTOM WEBSITE DEVELOPMENT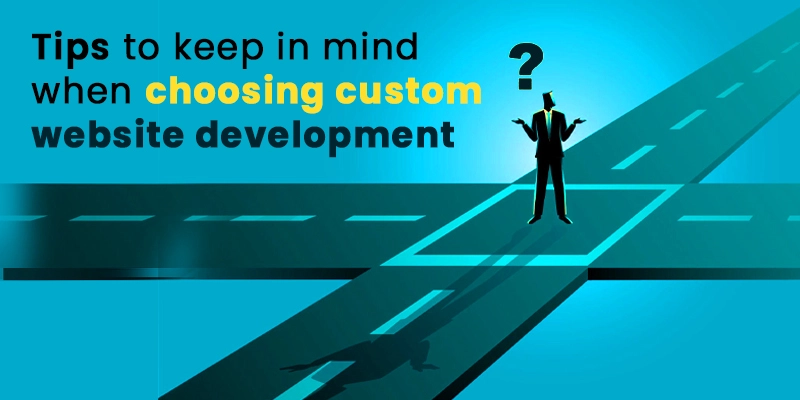 | (0) Comments |Author :Exavibes Services
TIPS TO KEEP IN MIND WHEN CHOOSING CUSTOM WEBSITE DEVELOPMENT
In today's digital era, a business exists if it has an online presence. Such is the perception of consumers that anything that is not present online, is not present at all. A website creates the first impression of a business. But merely having a website is not enough. It must be in tune with the products and services, targeted audience, and most importantly business objectives and brand guidelines. Custom website development comes with the freedom of assimilating customized features, customized aesthetics, and customized tools in your website. If you want to create a website that is unique, engaging, and carries a recall value, here are a few tips for you to keep in mind:

1) Understanding the target audience
Website is the first point of contact for businesses nowadays. Even before placing an inquiry, prospects browse through the website to understand the quantum of work that a company has done and the kind of products/services it offers. It is therefore important to lay down a clear segmentation of the audience and design a website that clicks with the said audience. If the audience does not find the website relatable and interesting, chances are high that the engagement time will be low, and you might lose out on business.

2) Incorporating brand guidelines
Your website reflects your business and must carry your unique brand identity, following brand guidelines such as color scheme, typography, placements, brand representations, etc., so that there are synergy and people can relate to your business well. Your website is your virtual office and should be designed just the way your physical office is designed.

3) Impeccable User Experience
Remember, the first interaction is the last impression. Your website must be engaging and must have a recall value so that the user takes the transaction with your company further. Would you like to revisit a store that has a clumsy display or an office that is a mess? A website that offers a poor user experience never rings a bell with the consumer. User experience includes factors like loading time, highlights to attract immediate attention, simplicity in navigation, relevant content, and most importantly educative and informative content. The better the user experience, the higher the probability of revisit and conversion.

4) Device-friendly custom website
Businesses need to make their websites accessible and responsive on various devices such as laptops, desktops, smartphones, tablets, and personal digital assistants, efficiently. A website that is not device friendly loses its chance to engage the user and has little probability of being revisited.
5) Search Engine Optimization
One of the greatest advantages of opting for a custom website is that generic templates are not SEO optimized, while a custom website can follow the latest trends and include the right custom keywords and metadata, which increases the probability of getting a higher rank on search engines. Custom websites must be designed and developed keeping in mind SEO listing and ranking because SEO largely affects website traffic, further affecting lead and inquiry generation.
Apart from all the above, the most crucial factor to keep in mind while developing a custom website is that your website must be designed and developed in alliance with the mission, objectives, and future goals of your business. If you wish to create a website that is around your brand's unique identity and gives a push to your business, a custom website is a way to go!
Take a sneak peek into our website development portfolio,
click here.
---