The Future Of Mobile Application Development, Trends And Innovations - Exavibes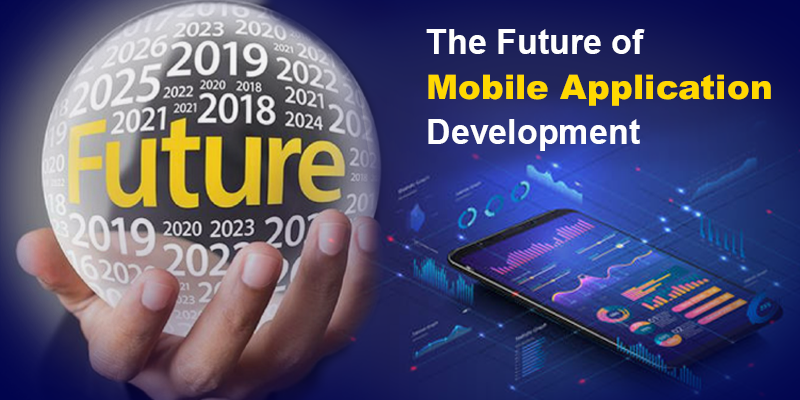 | (0) Comments |Author :Exavibes Service
In today's digital era, mobile applications have become an integral part of our lives, transforming the way we communicate, shop, work, and entertain ourselves. With the ever-evolving landscape of technology, it is essential for businesses to stay updated with the latest trends and innovations in mobile application development. In this blog post, we will explore the future of mobile app development, highlighting key trends and innovations that can shape the industry. Exavibes, a leading mobile application development company, is at the forefront of this evolution, delivering cutting-edge solutions to businesses across various sectors.
Rise of Artificial Intelligence (AI) and Machine Learning (ML) in Mobile Apps:
AI and ML have revolutionized various industries, and their impact on mobile app development is no exception. With advancements in natural language processing, chatbots, and predictive analytics, AI-powered mobile apps can offer personalized experiences, efficient customer support, and intelligent recommendations. Exavibes recognizes the potential of AI and ML in enhancing user experiences and can assist businesses in integrating these technologies into their mobile applications.
Augmented Reality (AR) and Virtual Reality (VR) Experiences:
AR and VR have gained significant popularity in recent years, creating immersive experiences for users. From gaming to education, retail to real estate, AR and VR have the potential to transform industries by providing interactive and engaging experiences. Exavibes can help businesses leverage AR and VR technologies to create captivating mobile apps that enhance customer engagement and provide unique value propositions.
Internet of Things (IoT) Integration:
The Internet of Things has expanded the possibilities for mobile app development by enabling connectivity between devices. IoT integration allows for seamless communication between smartphones and other smart devices, enabling users to control and monitor various aspects of their lives. Exavibes has the expertise to develop IoT-enabled mobile apps, empowering businesses to offer smart solutions that enhance convenience and efficiency for users.
Progressive Web Apps (PWAs):
Progressive Web Apps have emerged as a promising trend in mobile app development. Combining the best features of web and native apps, PWAs provide fast, responsive, and reliable experiences across multiple devices and platforms. Exavibes understands the benefits of PWAs and can guide businesses in developing progressive web apps that deliver a seamless user experience and reduce development and maintenance costs.
Enhanced Security and Data Privacy:
As mobile apps handle sensitive user data, ensuring robust security and data privacy measures is paramount. Exavibes stays up-to-date with the latest security protocols and can help businesses implement encryption, authentication, and other security measures to protect user data and build trust among their customers.
Blockchain Integration:
Blockchain technology has gained attention for its potential to enhance security, transparency, and trust in various industries. Exavibes can assist businesses in integrating blockchain into their mobile apps, offering secure transactions, decentralized data storage, and smart contract functionality.
Instant Apps:
Instant Apps provide users with a seamless app experience without the need for installation. Users can access specific app functionalities directly from search results, increasing convenience and reducing barriers to entry. Exavibes can help businesses leverage instant app technology to reach a wider audience and improve user acquisition and engagement.
How Exavibes Differs From the Competition as a Mobile Application Developer
Expertise and Experience: With years of experience in mobile application development, Exavibes has a team of skilled professionals who are well-versed in the latest technologies and trends. We have successfully delivered numerous mobile applications across various industries, catering to both small businesses and large enterprises.

Customized Solutions: We understands that every business is unique, with its own set of requirements and goals. Exavibes work closely with clients to understand their specific needs and develop customized solutions tailored to their business objectives. Whether you need a mobile app for e-commerce, healthcare, finance, or any other industry, We have the expertise to deliver a solution that fits your vision.

User-Centric Design: User experience (UX) is a key factor in the success of any mobile application. Exavibes places great emphasis on creating intuitive and user-friendly interfaces that engage and delight users. We follow industry best practices and conduct thorough usability testing to ensure that the application delivers a seamless experience to your target audience.

Cutting-Edge Technologies: Exavibes keeps up with the latest advancements in mobile app development to provide you with state-of-the-art solutions. Whether you require native iOS or Android app development, hybrid app development, or cross-platform solutions, Exavibes has the knowledge and skills to deliver top-notch results.
End-to-End Services: Exavibes offers end-to-end mobile app development services, from ideation and conceptualization to design, development, testing, and deployment. They take care of the entire development lifecycle, ensuring a smooth and efficient process for their clients. Additionally, they provide ongoing maintenance and support to keep your app up-to-date and bug-free.
Timely Delivery and Cost-Effectiveness: Exavibes understands the importance of meeting deadlines and budget constraints. They follow agile development methodologies to ensure timely delivery of projects without compromising on quality. Their services are competitively priced, offering excellent value for money.
Conclusion:
The future of mobile application development holds exciting opportunities for businesses to leverage emerging technologies and deliver exceptional user experiences. Exavibes, with its expertise and dedication to innovation, is well-equipped to guide businesses through this ever-evolving landscape. By staying updated with the latest trends and harnessing the power of technologies like AI, AR, IoT, and blockchain, Exavibes can help businesses create mobile apps that are both functional and future-proof. Embrace the possibilities of the future with Exavibes and take your mobile app
---