The Best AI Content Writing Tools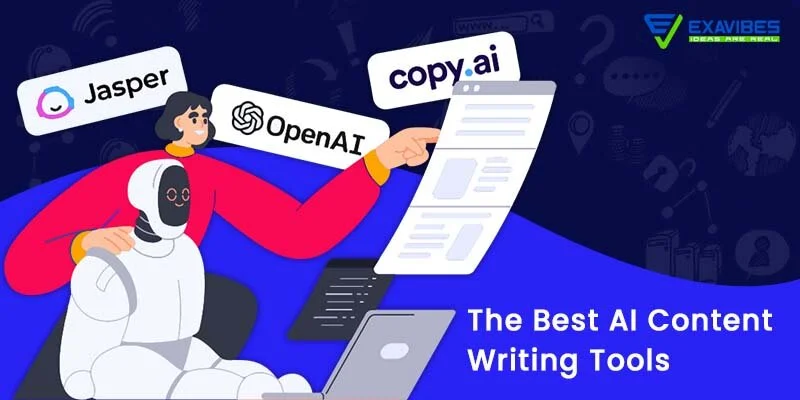 | (0) Comments |Author :Exavibes Services
AI content writing tools use artificial intelligence to help writers create unique and interesting content.
These tools produce content that is free of plagiarism and adheres to the highest grammar standards.
These tools have been around since the 1960s, but they have become much more efficient and productive as artificial intelligence and machine learning technologies have evolved and refined.
In this blog, we will discuss the best AI content writing tools on the market. Our Exavibes content writing and SEO team tested these tools for 30 days to determine their capabilities and effectiveness. We hope that this information will assist you in selecting the best tool for your content writing requirements.
List of top AI content writing tools
1. Jasper.ai
Jasper.ai is an artificial intelligence (AI) writing assistant that can generate content at scale. It is a cloud-based tool that can assist writers in the creation of content by generating ideas and topics for them. This AI writing assistant is widely used by thousands of digital agencies and businesses to create content for their clients.
One of the primary advantages of Jasper.ai is its ability to generate high-quality long-form content via its boss mode. Furthermore, when compared to other AI tools, it is well-funded and the product is far more stable.
The disadvantage of this AI writing assistant is that it cannot write creative content like a human writer, but it does provide assistance in the form of idea generation.
2. Bramework
Bramework is a long-form content-writing tool that assists agencies and freelancers in quickly and efficiently writing blogs and articles. It provides a clear process for generating content and is powered by GPT algorithms.
The tool detects the keyword you want to target with your new blog post. It evaluates the keyword and tells you whether the tool can generate content on the topic, allowing you to decide whether it's the right tool for the job.
3. Copysmith
Copysmith is a well-known AI content creation tool. It is supported by GPT-3 algorithms (released in mid-2020). It provides numerous content creation options. Content rewriter, blog intro, content expander, blog outline, and product description were among our favourite use cases.
The results provided by Copysmith are far superior to those provided by Jasper. The only disadvantage of the copysmith tool that we discovered is that it is slower than other tools.
4. Rytr
Rytr.me is an artificial intelligence (AI) writing assistant that assists marketers and small businesses with their content needs. On demand, it can generate blog posts, articles, and other types of content. Blog section writing, job description generation, video description, and call-to-action generation are among our team's favourite Rytr.me use cases.
The website has been up and running since 2016, but it wasn't until 2018 that it gained traction due to its use cases with digital agencies that needed to generate content for their clients at scale.
5. QuillBot
Quillbot is a high-end Ai content-creation tool. It can assist in the creation of unique content at an unrivalled rate. It can generate some of the best content available through such tools, thanks to GPT-3 algorithms.
Quillbot has grammar checkers, plagiarism checkers, paraphrasers, and summarizers. The tool is fairly simple to use, and the knowledge base is comprehensive.
Conclusion
AI assistants are a boon to human writers because they can perform all of the repetitive tasks that take up the majority of their time. These resources can concentrate on their strengths, which are editing, creativity, and emotions.
While some argue that AI assistants should not be used to replace human writers, they are already performing a large portion of the mundane work within agencies and customer content.
Furthermore, we are certain that AI will never be able to replace a good web designer or app developer. So, if you're wondering if it's possible to automate it, I'm afraid it'll take another two decades. Meanwhile, you can contact us at sales@exavibes.com to get a great-looking website and slick app up and running quickly.
---