SIX REASONS WHY YOU SHOULD HIRE A MOBILE APP DEVELOPER FOR YOUR BUSINESS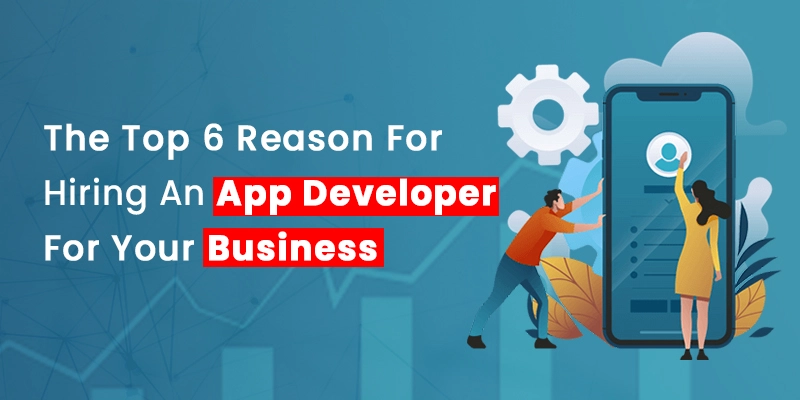 | (0) Comments |Author :Exavibes Service
SIX REASONS WHY YOU SHOULD HIRE A MOBILE APP DEVELOPER FOR YOUR BUSINESS
There is no magic wand that can bring success to any business. The key is the right mix of products/services, strategies, and smart business tools to create that magical success that every business owner aims at. In this phase of digital transformation, not just for organizations, but for humans, using dynamic digital tools has become quintessential. A mobile app is one such tool that brings products directly to the customer's homes.
With over 6.3 billion smartphone users across the world, it is no surprise that the mobile app industry is booming. Nearly 90% of time spent on mobile, is spent on app usage. According to statistics, the number of mobile app downloads increased from 204 billion in 2019 to more than 250 billion in 2022. This escalation is a result of the pandemic that led to an increase in time spent on mobile, thereby increasing app usage globally. From food delivery to banking, from entertainment to edutainment, businesses across various sectors have considered mobile apps as a strategic tool to increase their customer reach and improve their customer experience.

Some of the most common advantages of having a mobile app for your business are:
Increase customer reach
Scope for geo-targeting
Ease sales process
Improve customer engagement
Enhance customer experience
Create brand loyalty and recall
Build brand communication
However, statistics also reveal that only 9% of app users continue the usage even if it offers a poor user experience. It is therefore imperative for a business to hire an efficient mobile app developer or mobile app development company to develop the perfect mobile app to leverage this digital transformation.
This article offers six reasons why you should hire the best app development company for your business.
Cross-Platform App Development: There are more than 3 billion android devices and around 1.65 billion Apple iOS devices. Creating an app that is compatible with both platforms is a non-negotiable factor. Hiring an experienced app developer who can create integrated apps that are compatible with all platforms is the way to go ahead. At Exavibes, we have a large pool of experienced developers including iOS app developers and android app developers, who can develop cross-platform apps for our clients, increasing the number of app downloads once released.

Creative UX/UI: The ultimate goal of business apps is to increase sales revenues, which is possible with a satisfying user experience, which in turn greatly depends on the user interface design. It is therefore imperative to have the best designers create the UI/UX of your business app. We at Exavibes have a skilled team of creative UI/UX designers that collaborates with our team of competent web and app developers to integrate the brand message of your company within the look and feel of the app. This ensures an elevated level of user experience and helps in maximizing sales revenues.

Access modern technology: If you want to leverage the latest and modern technological advancements, you need to hire the best app developer for your business. Features such as augmented reality, gyro sensors, facial recognition, chatbots, etc., improve user experience and if you wish to stay in tune with such technological advancements, you need to hire the right app development team that is in tune with the times and updated with the trending technologies.

Development Process Planning: App development is not just about coding and designing, it involves planning the entire app development cycle. An experienced mobile app development company has the right resources to manage the entire development process. Right from freezing deadlines, and coordinating with designers and developer teams, to testing and releasing the app, a good mobile app development company has the expertise and ability to deliver quality apps that can prove to be the magic wand for your business.

App Listing: Launching a mobile app alone does not prove to be advantageous; it needs to be listed in app stores and made easily available to customers and prospects. A professional and competent mobile app developer will not only create the perfect app for your business but also register it on various app stores such as Google Play, Apple App Store, etc. Trusted app development companies like Exavibes not just list the app on various play stores, but also ensure App Store Optimization to boost visibility and make the app easily discoverable on various platforms.

App maintenance and upgradation: The successful release of a mobile app is just the first step to creating a staple marketing tool for your business. With frequent innovations in technology, the app must be timely upgraded to maintain compatibility with new technological platforms and tools. Further, considering the rapidly changing customer experience and high need for new experiences, every mobile app needs UI/UX update and refined process. Only a professional web and mobile app development company can provide post-launch maintenance services which include app upgrades, hosting functions, bug fixes, UI/UX upgrades, customer support, and app performance monitoring. Though this comes with an extra spent, this small fee goes a long way in ensuring that your mobile app works seamlessly once it goes live.
Conclusion
In conclusion, apps not only build a business but also build the reputation of the business. Hiring a team of seasoned app developers will help create quality apps and provide the support necessary to ensure the success of the app. Exavibes is a top mobile app development company that, with its competent and expert team can build the best, customized mobile apps to change the future of your business.
---