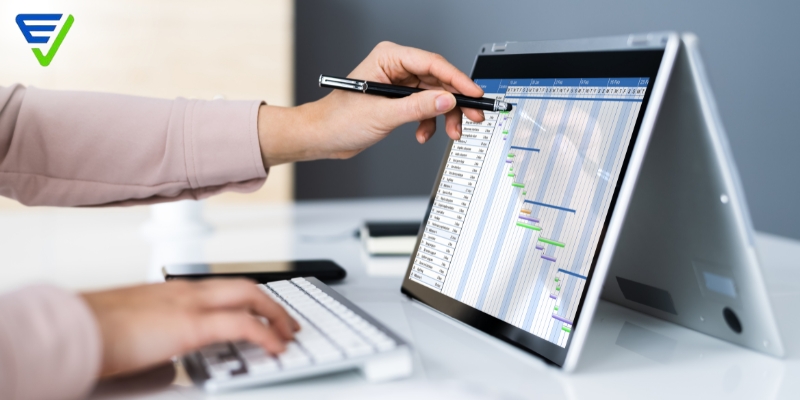 How To Use Data Analytics To Improve Your E-commerce Website
In the fast-paced digital world of e-commerce, staying ahead of the competition is necessary. One method that you can effectively follow is data analysis. By harnessing the power of data, you can gain valuable insight into customer behavior, optimize your website to the fullest, and see an overall boost in your sales. From this blog, we'll show you how you can leverage data analytics to take your e-commerce website at a whole new level.

Navigating E-commerce Success Through Data Analytics
Digital analytics is a foundation of success for any e-commerce website, that offers unparalleled insights about customer behavior, preference, and marketing trends. By harnessing the power of data, businesses can make well-informed decisions, optimize user experience, and accordingly make strategies for marketing. It improves the overall inventory by predicting demand patterns and also enhances personalization which leads to increased customer satisfaction and loyalty. The competitive landscape of the e-commerce business is very high and data analysis is not only a tool but a key to unlocking growth by maximizing efficiency and staying ahead of the dynamic curve in the world of e-commerce.
1. Understand Your Audience
The very first step in leveraging data analytics of your e-commerce website is to understand the audience. Analyze customer demographics, preferences and purchasing patterns. After making data about this, this information will help you to tailor your products, marketing strategies, and user experience to better meet the needs of your target audience.
Advantage: When you make your website according to your audience's preferences, it leads to increased engagement, longer time spent on your site, and a higher conversion rate.

2. Analyze Website Traffic
You can use tools like Google Analytics to track the traffic of your website. Identify which are the pages that are most visited, the average time users spend on your website, and the pages that show a high bounce rate. From this data, you can optimize your website layout, content, and navigation to enhance the user experience.
Advantage: Optimizing your website page in relevance to the traffic, it receives enhances the user experience. For this, data can be created for getting a good report about the traffic that can increase a higher search engine rankings and organic traffic.

3. Personalized Marketing Campaigns
According to a survey by Segment, 49% of consumers have made impulse purchases based on personalized recommendations, highlighting the role of data analysis in fostering customer loyalty through targeted marketing.
Data analytics gives you a pathway for creating more personalized marketing campaigns based on the preferences of customers and their behavior. Utilize this data for customer segmentation to target specific groups with tailored promotions, product recommendations, and marketing messages. This personalized approach can have a significant increase in the effectiveness of your marketing efforts.
Advantage: Personalized marketing increases customer loyalty, engagement, and the likelihood of repeated purchases.

4. Optimize Product Placement and Pricing
Sales data can help you understand which products are popular and which need a boost. By this, you can adjust product placement on the website according to its popularity. Additionally, use pricing analytics to find the optimal pricing strategy for your products by considering factors like competition, demand, and sensitivity of customers.
Advantage: Strategically placing the product and making pricing adjustments can lead to increased sales and revenue.
5. Improve Inventory Management
You can check which products had a good sale and which products had a bad one previously. This data analytics predicts demand patterns and identifies seasonal trends to allow you to plan inventory levels strategically. This foresight enables timely adjustments, prevents stocks during peak periods, and minimizes excess inventory during the slow season. You can align with inventory according to the market demand with this data which helps you reduce costs and foster a steady supply of sought-after products.
Advantage: Efficient inventory management minimizes costs and reduces the risk of overstocking and understocking.
6. Enhance the Checkout Process
Baymard Institute reports that the average online shopping cart abandonment rate is around 69.8%, emphasizing the need for data analysis to understand and address the reasons behind cart abandonment.
By streamlining the checkout process you can address the pain points and create an intuitive journey for customers. Consider a progress indicator that illustrates steps and reassures users. Leverage the use of data by personal touches like pre-filled information based on previous purchases. These enhancements expedite the process and also contribute to a user-friendly experience that aims for a positive impression and sales of course.
Advantage: A streamlined checkout process boosts conversion rates and reduces the abandonment of carts by positively impacting your bottom line.

7. Monitor Social Media Engagement
You can employ some social media analytics to track the performance of your e-commerce campaigns on platforms like Facebook, Instagram, and Twitter. With these data metrics, you can analyze which social media channels are driving the most traffic and engagement to tailor your social media strategy accordingly.
Advantage: Aligning with your audience by some content preference on social media platforms amplifies your brand visibility and engagement.

Key Factors to Consider
1. Clear Objectives: Before making the data, set a clear goal for analyzing the data. It can be anything like improving conversion rates, optimizing marketing strategies, or enhancing the user experience, having a clear objective set in mind guides the entire analysis.
2. Data Quality: Ensure the accuracy and reliability of your data. Mistakes in data analysis can cause a huge loss in sales, may lead to inappropriate marketing strategies, and a decrease in the overall efficiency of e-commerce stores. Cleanse and validate data regularly to avoid errors and inconsistencies that could skew results.
3. Relevant Metrics: Identify all the key performance indicators (KPIs) and keep a good focus on them that is relevant to your business goals. Metrics like conversation rates, average order value, and customer acquisition cost are often crucial for e-commerce.
4. Comprehensive Data Sources: Collect data from different sources like website analytics, customer databases, and social media platforms. A comprehensive dataset gives a holistic view of customer's behavior.
5. Timeline Considerations: Analyze data from different time periods to keep aligned with trends, seasonal patterns, and potential areas of improvement. Long-term and short-term analyses give a valuable perspective.

Conclusion
In the changing landscape of e-commerce, data analytics emerges as a beacon of success. By understanding the audience, optimizing the website, and implementing personalized strategies, businesses can transcend competition. It has streamlined checkouts and strategic inventory management. data is the key to unlocking growth and staying ahead in the ever-evolving digital realm.
---