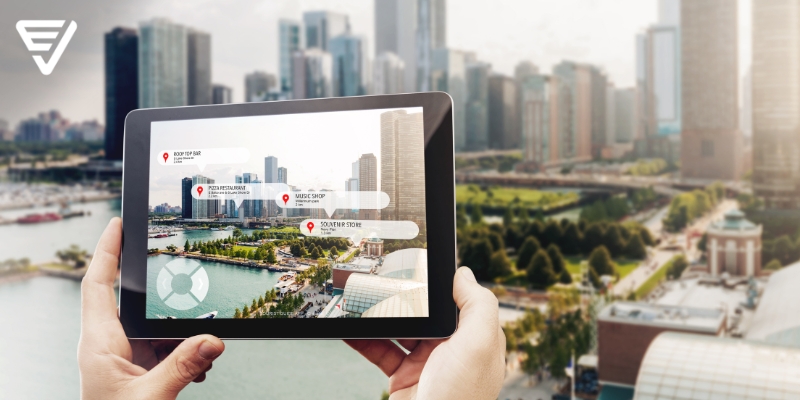 Building A Smart Home - IoT Based Guide
Transforming your house into a smart heaven is a technological upgrade and a lifestyle enhancement. It is been driven by the integration of IoT technologies to open the gates for welcoming a more efficient, secure, and convenient lifestyle. This step-by-step guide aims to demystify the process that empowers you to build a smart home that aligns seamlessly with your needs and preferences. It defines your smart home goals by staying abreast with the latest innovations to embark on this dynamic journey. This elevates your living space into a more technologically advanced and personalized sanctuary.

Smart Home Development
Developing a smart home means integrating it with IoT technologies. You will be able to witness enhanced automation and control by connecting devices like smart thermostats, lighting, and security systems with a centralized platform. The goal here is to create an intelligent environment that responds well to user's preferences. It also offers improvised energy efficiency, security, and convenience. This dynamic process often requires ongoing exploration and integration of emerging technologies that continually optimizes and personalize your smart home experience.
1. Define Your Smart Home Goals
Take time to carefully articulate your specific objectives by transforming your home into a smart space. You might be looking to reduce energy consumption, enhance security, streamline your daily routines, or maybe even an entertainment hub. Defining your goals helps you to prioritize devices and technologies to align with your unique needs.
2. Choose an IoT Platform
You need to make a well-informed decision while choosing the correct IoT platform that has all the features and compatibility. You need to consider user interface, ease of integration with third-party devices, and the availability of developer tools. Research all the customer reviews and insights of the real-world user experience to help you choose a platform that aligns with your preferences and the devices you already own.
3. Create a Smart Home Ecosystem
For building a cohesive ecosystem, you need to carefully select devices that meet your immediate needs and offer room for future expansion. Explore smart sensors, door locks, and even appliances that can seamlessly integrate with your chosen ecosystem. Check for devices that support open standards, foster compatibility and reduce the risk of being looked at in a specific brand.
4. Establish a Secure Network
Security is the biggest concern of people who wish to switch towards a smart home. They have potential entry points for cyber threats. It goes beyond setting up a secure Wi-Fi network, it considers implementing additional security measures like two-factor authentication and regular security audits. This will help you stay informed about cybersecurity's best practices to fortify your home from evolving threats.
5. Choose Compatible Devices
Compatible devices ensure a smooth and interconnected smart home experience. You can explore the compatibility lists that are provided by your chosen IoT platform to check for interoperability certifications. This step is important for preventing potential compatibility issues as you expand your ecosystem with additional devices over time.
6. Develop Automation and Control
Automation is a place where the true magic of a smart home unfolds. You can experiment with creating customized automation scenarios for catering to your lifestyle. For example, you can program your smart thermostat to adjust to your daily routine or to set up motion sensors for triggering specific actions in different rooms. You may also fine-tune these automations to create a line between convenience and energy efficiency.
7. Incorporate Voice Control
By implementing voice control techniques, you can add a layer of sophistication to ease your smart home. You can dive into the capabilities of voice-activated assistance like Alexa, Google Assistant, or Siri. With this, you can also explore the extensive list of commands to integrate them with your daily routines. You can also consider getting some voice-controlled smart speakers and displays for strategically placing it in your house for maximum accessibility.
8. Monitor and Optimize
You need to regularly assess the performance of your smart home device. Keep an eye on energy consumption, device responsiveness, and the overall stability of your system. Whenever you get a software update, do the updates promptly for performance improvements and security patches. By regularly monitoring it, you ensure that your smart home continues to evolve with the latest advancements in technology.
9. Expand Gradually
When you choose to switch towards a Smart Home, it's not just a one-step process. You need to resist the urge to transform your entire home overnight because - "haste makes waste." Instead, you must focus on gradual expansion by adding new devices as your needs evolve. With this, you will stay attuned with emerging technologies by preventing your smart home form becoming outdated.
10. Energy Management
The key aspect of building a smart home is efficient energy management. This begins by the efficient use of energy monitoring devices. These tools provide real-time insights of energy consumption to allow homeowners identify and optimize usage patterns. Moreover, incorporating smart plugs and switches in your systems helps to remote control and scheduling power to specific devices.
11. Weather Integration
By adding weather data to your smart home system, you add a dynamic layer of automation that enhances the overall efficiency and comfort of your living space. For example, by linking smart blinds to weather forecasts, you can automate adjustments based on sunlight intensity by ensuring an optimal balance of natural light throughout the day. Moreover, it receives weather-related notifications that allows you to prepare your home in advance for unpredictable weather conditions like adjusting thermostat settings to be ahead of temperature fluctuations.
12. Stay Informed
The world of IoT is dynamic and with innovations and trends, you can continuously shape the landscape. You will stay ahead of industry news, attend conferences, and participate in online communities. Furthermore, networking with other smart home enthusiasts can provide valuable insights and recommendations for the latest and greatest technologies and devices.
Smart Living with IoT Integration
Smart living with IoT integration helps to transform homes into intelligent spaces. It includes lights and thermostats for personalized comfort to advanced security systems like entertainment setups, and many more… The integration of smart devices enhances convenience and efficiency. You will see an embraced and connected lifestyle that adapts to your needs for a seamless and futuristic living experience.
1. Lighting
You can illuminate your living space with smart bulbs and switches, that offers remote control and automation for a personalized lighting experience. You can use motion sensors to add energy efficiency, activate lights based on occupancy, and to ensure a seamless blend of convenience and sustainability in your homes.
Smart Bulbs and Switches: Upgrade your home's lighting with smart bulbs and switches. You can enjoy the convenience of remote control by adjusting brightness and color temperatures via mobile apps or voice commands. Integrate automation for scheduling lightning scenarios for different times of the day.
Motion Sensors: Enhance energy efficiency by installing motion sensors. With these sensors, the light gets automatically activated when motion is detected, by ensuring that rooms are illuminated only when needed, to save energy and provide hands-free convenience.

2. Thermostats
With smart thermostats, you can control your home's climate by enabling remote temperature adjustments and energy-efficient settings. Integration with weather data ensures adaptive climate control by optimizing comfort to minimize energy consumption for a smarter and comfortable living space.
Smart Thermostats: With these smart thermostats you can take control of your home's climate. You can adjust temperature settings remotely with smartphone apps or voice commands. You can also enhance energy efficiency by keeping programmable schedules to ensure comfortable temperatures when needed to conserve energy when you're away. Integration with Weather Data: Connect smart thermostats to weather data for adaptive control of climate. The system can anticipate temperature changes based on weather forecasts by optimizing heating or cooling to maintain a comfortable environment for minimizing energy consumption.

3. Security Systems
Smart security systems, feature surveillance with smart cameras and two-way communication with doorbell cameras. It has smart locks to provide a keyless entry that offers a comprehensive and convenient approach to home security.
Smart Cameras: With smart cameras, you can monitor your property in real-time through mobile apps to receive alerts for suspicious activities. Some cameras also offer features like facial recognition and cloud storage for added convenience.
Doorbell Cameras: Your traditional doorbell can also be updated with two-way communication. Enhance your lifestyle with smart integrations that doorbell cameras has like answering the door remotely, communicating with visitors, and even receive package delivery notifications. You can enhance security and convenience with this smart entry solution.
Smart Locks: With smart locks, you can add an extra layer of security. You can enter your house without keys through your smartphone apps or keywords. You can also grant temporary access to visitors and receive notifications of door activity that ensures you always know the to-and-froth of people.
4. Entertainment Systems
Smart TVs give voice control and seamless access to streaming services. You can integrate home theater systems and smart speakers for an immersive, interconnected experience, turning your living space into a cutting-edge entertainment hub.
Smart TVs: By transitioning your traditional Tvs by Smart Tvs, you create a best viewing experience that removes the add breaks and conveinency of pause and play. Enjoy voice-controlled features to access streaming services and integrate them with other smart devices for your binge-watching seens.
Home Theater Systems: You can take your home entertainment to the next level with the integration of IoT. Connect your home theater system to smart devices that allow for unified control and immersive experience.
Smart Speakers: Immerse your space in audio control with smart speakers. You can enjoy music, podcasts, and more with voice commands. You can also create a multi-room audio system for a cohesive and customizable sound experience.
5. Appliances
You can modernize your kitchen and laundry with smart appliances, from refrigerators to ovens and coffee makers. You can also enjoy remote monitoring and control to receive alerts or optimize energy usage for added convenience and efficiency to your daily routines.
Smart Refrigerators, Ovens, and Coffee Makers: Ace your kitchen with modernized smart appliances. Enjoy features of remote monitoring and control to ensure that your appliances are tailored to your lifestyle. You can also receive alerts, adjust settings, and optimize energy usage.
Washer and Dryer: You can monitor and control your laundry with appliances remotely. Receive notifications when cycles are complete and adjust settings on the go to optimize energy usage, based on your preference.

Conclusion

As we conclude this guide to smart home development, the vision of a seamlessly connected and intelligent living space comes into focus. You can define your goals by choosing the right platform, and by carefully curating your smart home ecosystem. You've laid a foundation for a transformative experience. The emphasis on security and compatibility and gradual expansion ensures a full-fledged and future-proofed smart home. Remember, this journey doesn't end, it evolves. Keep yourself informed by exploring new technologies and let your smart home grow organically through its ever-advancing landscape of IoT. Embrace the possibilities and enjoy the boundless potential of your intelligently designed home.

This step-by-step guide empowers you to shape a smart home that merges with technology and lifestyle. From defining goals and selecting IoT platforms to integrate it with smart devices, this is your journey towards transforming your lifestyle and giving it an upgrade. Illuminate, Optimize and secure your living space with a step into the future of efficient, secure, and covenant living through smart home development.
---