How Android Apps Can Help Small Businesses To Attract More Customers?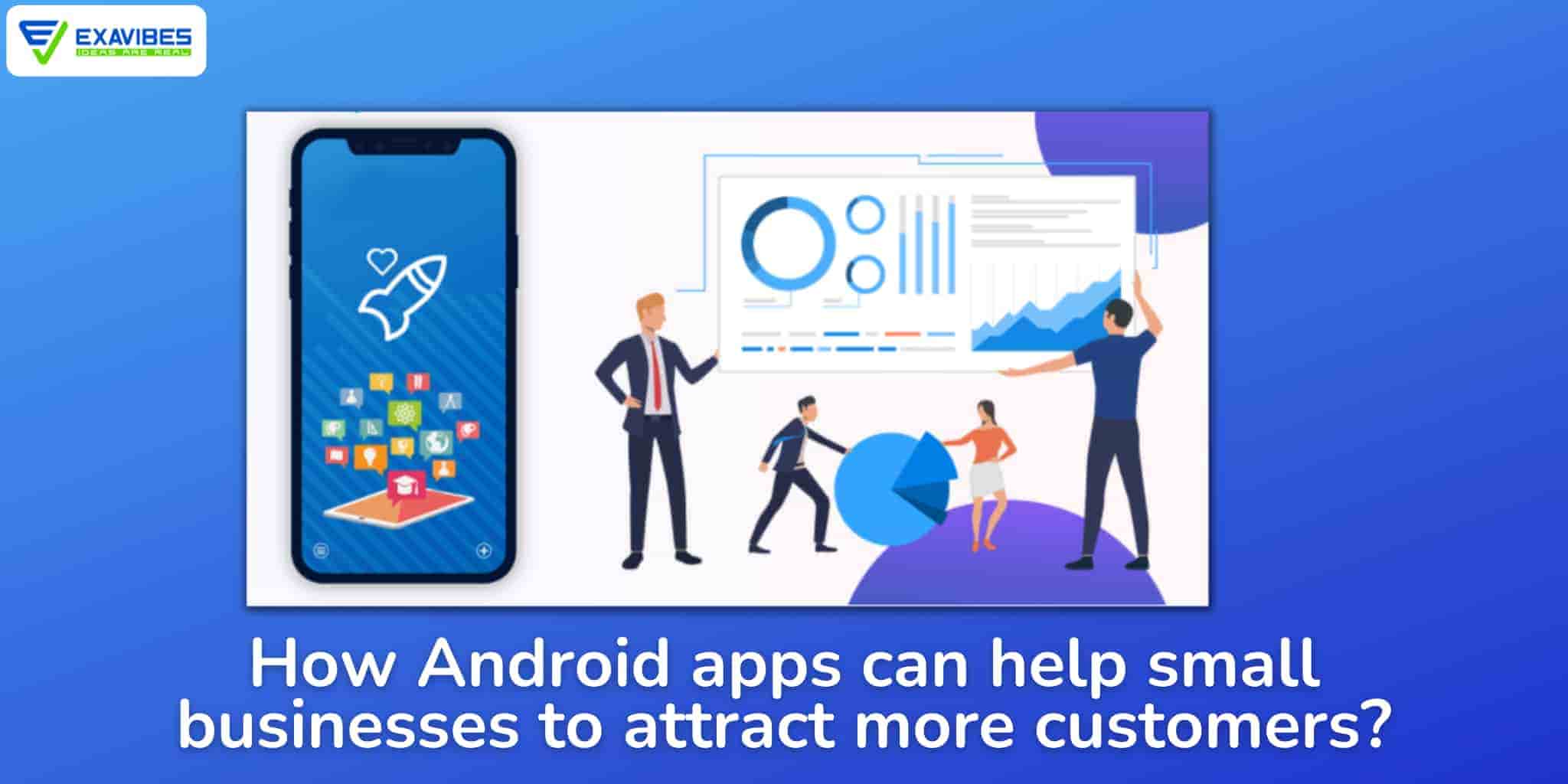 | (0) Comments |Author :Exavibes Services
If you are one of those business entities who feel the mobile application is just a fancy piece of software and has little or no relevance to small enterprises, then think again. The bulk of the marketing action happens on digital platforms. Earlier, it was just a responsive website and social media which helped organizations grow. Today, another dimension has been added to this list of strategies. App Marketing! It is not a glamorous phrase, a mystical and magical wand; it is an essential feature of small businesses to achieve their future goals and aspirations.
If cafes and fashion stores can have their own app, then why can't you as a small business owner. Remember, digital marketing is incomplete without a mobile application. To beat the rest of your competitors you must have an intuitive app. Even then it will require some redefining actions and the box approach to make it a hit with your niche consumers.
Not yet convinced!

Here are some numbers which should be an eye-opener for every small enterprise and subsequently send the owner scurrying towards an
Android application development company
.
1. Folks in the U.S spend an average of 5 hours on their mobile phones.
2. This does not include time spent on business/work-related tasks.
3. Consumers spend more time exploring apps than watching television programs.
4. By the end of the decade
mobile application market
will evolve into tens of trillions of dollars. This is proof of the Android app's popularity across the globe.
Maybe the above data pointers have shaken up some of the small business owners. Maybe there are a few who are still wondering about its relevance. Mentioned below are some of the compelling reasons for the latter category of folks. The signs are ominous and the writing is on the wall, offer the App Installation option to your consumers before they say goodbye to your products and services forever.
Remain Connected 24 X 7 -
One of the most intriguing and compelling features of an Android app is Push Notification.
It allows small business owners to remain in constant touch with their customers. Send special discount & sales notifications, send reminders about product/service launches or simply poke your customers with a price drop alert. These discreet messages keep your customers updated. It is statistically proven that personal notifications increase and improve loyalty.
However,
businesses need to send value-added information
. Customers can be segregated based on their purchase history. This could be niche or volume-based. The same can then be used for targeted push notifications that offer a sense of personalized update and are simply adored by app users. In fact, one of the champions and experts in digital marketing, Neil Patel, confesses that this feature alone improved his website traffic exponentially. This feature needs a top Android app development company. As a business operator, choose the one who understands the intricacies of this feature.
Consolidated Marketing - Choose an Android application Development Company wisely
Even in these digital times, several businesses still rely on offline marketing avenues such as hoardings, magazines, and newspaper advertisements which have a limited impact but cost a bomb at the same time. Moreover, managing this corsage of strategies can be time-consuming, ineffective, and deliver poor ROI. Cut to Mobile Application where the only objective is to market the app.
Once the same is downloaded, a single, dedicated and targeted campaign can cover hundreds and thousands of customers in one shot. Depending on your long-term marketing strategy, an app can be tweaked or scaled depending on the needs of the business.
That is the beauty of the Android app; it is scalable, allowing small businesses to improve their app features in tandem with growth
. Therefore choose an experienced
Android app development company
.
Android Apps - Almost Shop-like Experience
Small business owners may argue with a common query - "Why mobile application when a website can do the job". It is a good question and a valid one at that. Here are some of the special features of apps that websites simply cannot be embedded with.
Access mobile hardware for push notifications and other features.
Map related lineament.
AI-based stores/applications which almost replicate the 'Brick-and-mortar' experience.
Lightning-fast response to consumer queries. Leads to better conversion and sales.
No login is required. A simple icon press can open up your store/application.
App installation is easy, discreet, and occupies little space.
Superlative social media integration.
Unlike websites that are drag and obsolete ways of doing business, an app forces people to keep coming back
. Whether your app is dedicated to products or services, the joy of navigating on a handheld device and that too in the comfort of your office/home is simply incomparable. No wonder then that top App Marketing and development companies in Mumbai are doing so well.

Brand Recognition –
An app helps build brand recognition and retention. While the question seems complex, the answer is actually not secretive. Once the business app installation is done, the user is offered intuitive social media options.
Mobile apps and social media apps are built for each other
. They are twin sisters or twin brothers and depend on how you see it. Apps allow users to quickly share, like, and comment over several palpable social media platforms driving traffic, and creating awareness for a particular 'Name' and it is this constant reiterating through comments and reviews which skyrockets the brand value.
This relentless 'Focus' embeds the brand in the user's mind. It invariably resides inside the subconscious and is easily recognized when it pops up again on various platforms
. Once the brand becomes popular it results in an increased number of downloads which drives the brand further. It is this viral effect that can do wonders for small business owners.
Operational Savings -
A mobile app dashboard allows enterprises whether small, medium, or large to operate their marketing tasks through a centralized mechanism. So, whether it is inter-departmental, between two sister firms, or overall marketing action, an app can save money by reducing operational costs. A renowned
Android app development company
across India provides supplementary but complementary services such as staff training.
A single employee can be trained to look after app marketing and customer service
. The advantage here is that small business owners do not need to build a team of professionals. This strategy will not only reduce marketing expenditure but also result in an increased app installation number.
Conclusion -
A word of caution for small business owners;
don't waste your time and resources on maintaining obsolete websites with poor ROI
. Shun away from leaflets, banners, hoardings, and paper-based marketing strategies. Adopt a new-age, digital strategy with excellent returns, operational ease, and scalability. Call your nearest application service provider or
Android application Development Company
, and build a world-class app.
Another myth that is constantly accepted and spread is that Android apps are expensive to build and maintain. It is untrue. Both app development and app marketing are highly affordable and low on operational costs.
---