How Android App Is A Better Choice Than IOS App?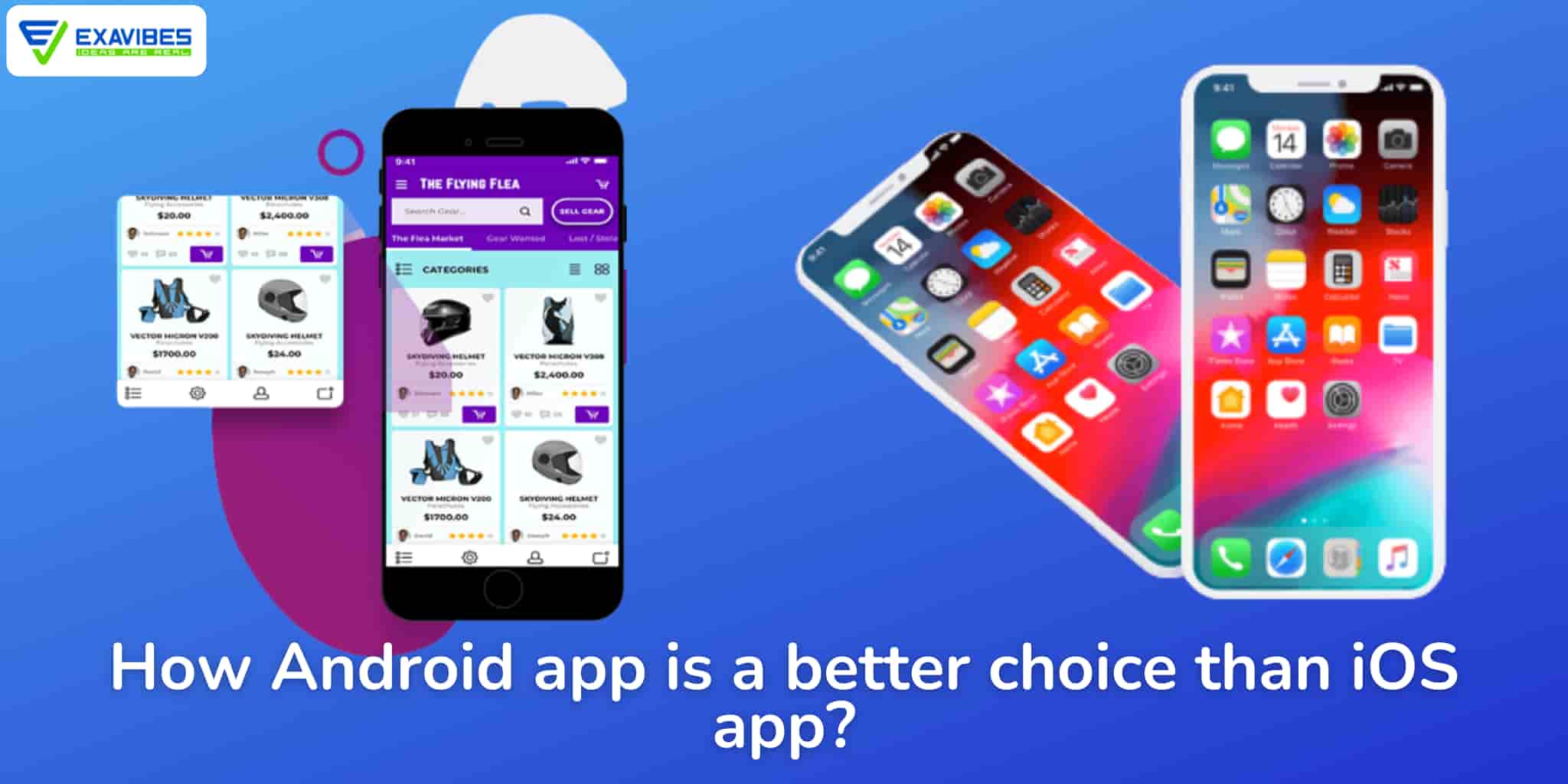 | (0) Comments |Author :Exavibes Services
How Android app is a better choice than an iOS app?
This blog is especially for those business owners who have finally decided that an app is an important sales and marketing tool and that developing one is crucial for growth and future aspirations. Before you pick up your phone and get in touch with your nearest
Android application development company
you first need to understand the pros and cons of two reigning platforms or operating systems; Android & iOS.
Before offering a contract to the development agency analyze and evaluate your target audience, its geographies, and the purpose of the app. Although
Android
and
iOS
together own almost 97% of the market share, the difference between their individual shares is huge. Here is the breakup -
Android - 70.97%
iOS - 28.27%
Samsung - 0.43%
Australia, the U.S, Finland, France, Germany, the U.K, and Denmark are some of the countries where iOS or Apple products are quite popular. In contrast, Latin America, Africa, and Southeast Asia have a soft corner for Android phones. And the reason is quite obvious. While an iPhone has a starting price of $800, an Android phone can be bought for as low as $100. Most of the geographies where Android phones are popular typically have lower disposal income. In other words, the earnings in these places are substantially lower than in the U.S and other Western nations.
It is therefore pertinent for business entities to connect with
Android app Development Company
after evaluating their audience. This blog will discuss some of the merits of the Android app, and how it is a better choice in comparison to iOS in certain scenarios.
Multiple Geographies | Massive Numbers -
Here are some statistics which should force organizations to ponder the power of the Android operating system.
There are more than 3 billion Android devices present around the globe.
The percentage of Android phone users in Asia, Africa, and Latin America is roughly around 83% to 87%.
The staggering number of Android-based mobile phone models reflects its penetration and popularity which incidentally is simply not countable.
If your business is not geo-location sensitive and target audience neutral then Android is your best bet. Even then it makes sense to build your first app around this framework. Make sure your choice of agency is not a niche
iOS app development company
.
Customized Android UI -
While iOS is extremely rigid in its UI customization options, Android due to its very nature ( Open Source ) offers developers, especially UI designers to play around with various elements and layout functionalities. What does this mean for you as a business app owner – A mobile application which is distinct, easily recognizable and built to your taste?
On the flip side, such customization does take time and at times puts a lot of load on the parent device, in terms of hogging memory and straining resources. Ask any
iOS application development company
worth its salt and it will offer you an insight into the rigidity of the Apple operating system.
Fantastic ROI -
So, whether your business is planning productivity, service, or an ecommerce app, the sheer number of Android users translates into mind-boggling returns. A point to note; in spite of its large share in the phone market, Android still lags behind iOS in terms of overall revenue. The latter continues to maintain a healthy lead with more than 60% share of the revenue generation parameter. This is not a myth. Ask any
iOS app development company
and this entity will confirm the number.
And hence, if you want to monetize productivity, game, or a niche app, it is advisable to opt for iOS. On the other hand, Android would be a perfect option for a service or an ecommerce business application. Here are the iOS and Android revenue numbers -
Apple Store app revenue -
2017 $38.5 billion
2018 $46.6 billion
2019 $58.4 billion
2020 $72.3 billion
2021 $85.1 billion
Google Play Store app revenue -
2016 $15.0 billion
2017 $21.2 billion
2018 $24.8 billion
2019 $30.6 billion
2020 $38.6 billion
2021 $47.9 billion
Games remain the main revenue generator for iOS as well as Android, accounting for 67% of all app revenue. No wonder then
iOS app Development Company in Mumbai
and across India are experiencing double-digit growth year on year.

Timeline & Cost -
Android developers exploit JAVA or Kotlin programming framework while iOS developers use Objective-C or Swift development platform. So, what has this got to do with the timeline? A lot actually! Android devices are typically fragmented in terms of screen size, hardware, Operating System flavors, and functionalities.
This increases the development tasks and thereby leads to longer release cycles. However, it does grab a large number of users at the same time. Is it then sufficient to say that Android is a better choice? Well, as mentioned above it depends on your application. Consult a top Android app development company for better insights. Organizations, especially startups are better off with Android apps. It simply offers an impressive head start in terms of audience size.
The cost of any app is generally dependent on its functionalities, embedded technologies, and usage of default and third-party widgets. In short, complex applications cost more, and it will be apparent when you, as an entrepreneur, connect with an
Android application Development Company
for a quotation.
However, a certain category of apps is cheaper to develop using the Android platform while others complement the iOS framework. Business owners planning to build a niche application, without frills or frivolous features can surely opt for Android. Once again, the usual justification is the sheer number of Android phone users.
Final Decision -
The decision of whether an Android or iOS app is better will depend on several factors. Some of these include geography, target audience, functionalities and features, timeline, and of course post-launch service and maintenance. In simple words, if your target audience belongs to the developed world, it is imperative that you opt for iOS and therefore get in touch with the
best iOS app development company
. For business owners who are targeting Asia, Africa, and Latin America can blindly go for the Android framework. As mentioned above, although Android has a larger user base, the actual revenues generated from apps and app-based services tilt in favor of iOS.
It may also happen that your business app may have a specific use for Android users in affluent geographies. In such a scenario, you as a business organization need to tweak your evaluation accordingly. However, it is imperative that you connect with only the top
iOS application development company.
---