Common Mistakes One Should Avoid While Mobile App Development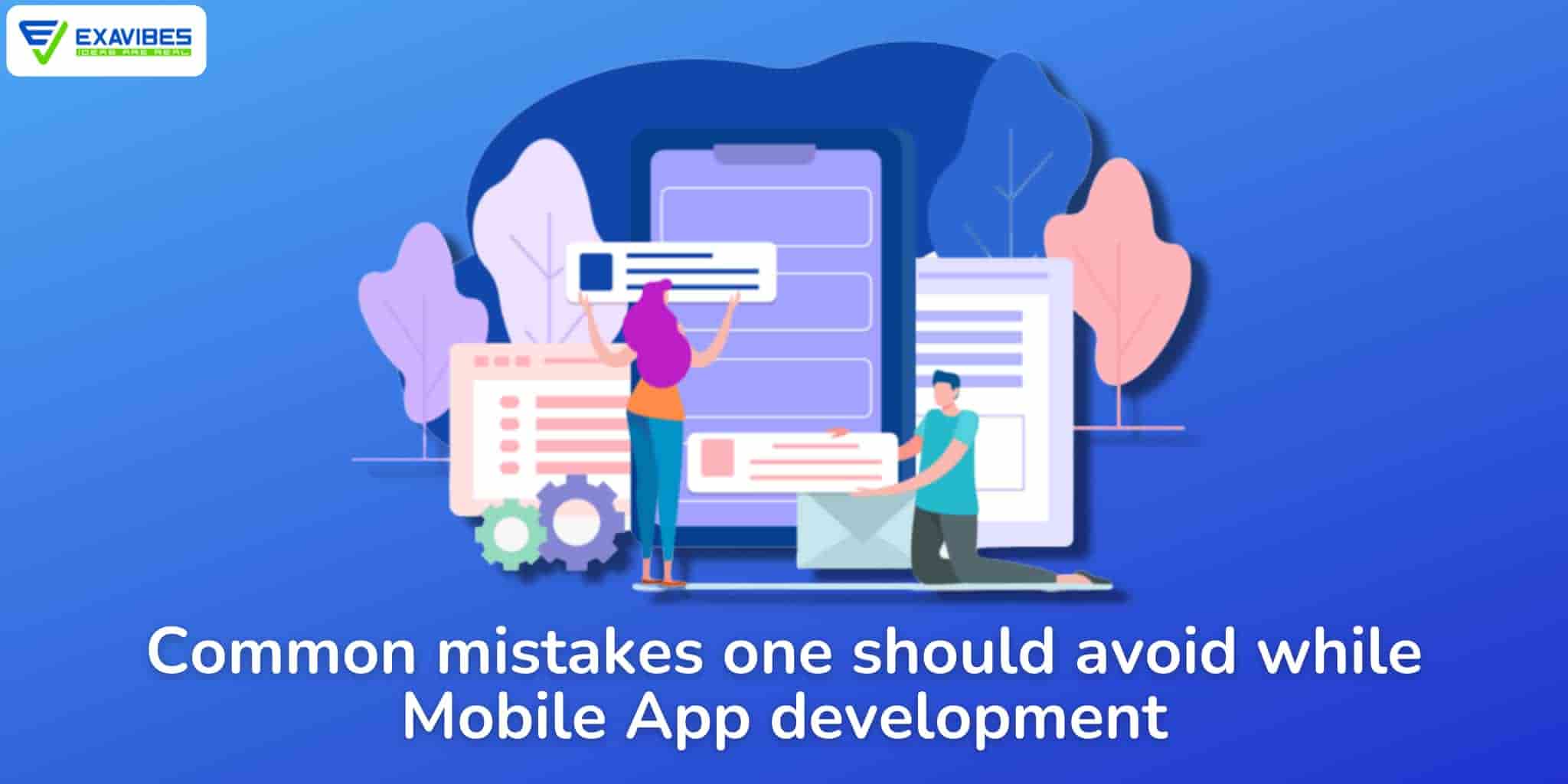 | (0) Comments |Author :Exavibes Services
It is now an open secret that established businesses and startups need additional sales and marketing options to maintain healthy growth momentum. One of the ways to achieve this is through digital platforms, especially mobile apps. Nonetheless, it is easier said than done. The reason is, that organizations tend to commit typical
mobile app development
mistakes
. These shortcomings strongly affect the success of their digital product, and in some worse case scenarios get banned or face a barrage of negative reviews on digital stores and social media platforms.
A recent study by Statista offers an insight into the cut-throat competition in this domain.
With millions of apps uploaded to Google Play Store and Apple Store, it demands a lot of ingenuity from the new entities to negotiate this challenge.
While some come up with radical ideas there are others who provide out-of-the-box features to woo customers and turn the app into a success story.
An Eye-Opener -
Every year billions of apps are downloaded from the stores. Thousands of these apps are already a big hit with the users, offering state-of-the-art features, improved engagement and envious revenue models, etc. In such a scenario will your app survive the onslaught of existing as well as those that are being uploaded on daily basis? The fact is, there is no guarantee of success. However, your organization can improve the odds by avoiding some of the common mistakes committed by many developers during the
mobile app development process
.
So, which category does your business belong to?
Are you an established business entity offering an app for business processes/marketing tasks, OR
Are you a startup with a brilliant product/service idea?
Either way, a mobile app can improve sales, increase revenues, and prevent business process bottlenecks
. This is of course subject to the tools and technologies used, and therefore as an aspiring business entity wanting to build one you should choose the
best mobile app Development Company
with a superlative track record.

Avoid these common mistakes while developing an app
There is a point in reinventing the wheel -
This is one of the frequently committed mistakes by existing as well as startup business folks. Imitating a popular app with few tweaks is by no means a radical idea. If your groundbreaking dream is based on one of the popular app models/brands it is obvious you have nothing new to offer. Remember, providing new wine in an old bottle will only dampen your brand value. Even if you offer additional, domain disruptive features it remains a clone of another model. However, established product and service providers have the liberty to draw inspiration from popular apps.
Ecommerce apps
are a perfect example. They might look like clones but each has a distinct flavor, features, and product and service options. On the other hand, developing a food aggregator app simply makes no sense because the market is already saturated. Such an offering will never excite users.
Ignoring Apple or Android Mobile Users -
No mobile application development company worth its salt would ask you to ignore either user and yet this mistake is committed by most of the businesses while planning to develop an app. Most of them tend to choose either iOS or Android. This is simply not feasible and a sure shot way towards complete failure.
Organizations should conduct research for their target audience and then choose an appropriate platform.
For entrepreneurs running on a shoestring budget, a
hybrid app development
option can work wonders. A cross-platform strategy allows business folks to quickly launch their app, test the market and based on the reviews and associated user data they can either tweak or migrate to a dedicated platform. However, it is always advisable to cover a broad range of users in terms of O.S's, and therefore it is necessary to opt for a
top development agency
that offers
Android app development
and
iOS app development services
.
UX / UI - The game changers -
Let us first talk about UI or user interface. Today, Android and Apple stores are littered with apps that look stunning, offer brilliant colors and deploy crisp images and animations. And yet, they are a complete failure. The reason; these applications are actually an eyesore.
Moreover, the developers have deployed ridiculous and unwanted design elements, turning it into a maze, a complex piece of art rather than a useful, functional mobile application
. This is where a
Mumbai-based iOS app development service provider
or
Android developer
would make a huge difference.
On the other hand, bad UX or user experience has also been the nemesis of dozens of brilliant apps. Every business organization/startup should ask their employees what they sought in an app, especially for their niche domain/expertise. Even startups need to talk to the masses, discuss their idea, and get feedback on features and functionalities. Remember, an app that is logical, intelligent and works like a typical human mind can go a long way and turn into a success story.
App developers
should shun unwanted functionalities and focus on a smooth, effortless transition with options to move back and forth conveniently. The end-user objective is the key to a good app. Users who get lost using the application are the ones who will delete the app first.
Security & Storage – Most ignored mistakes in mobile app development
Data and data analytics are two important elements of marketing. It offers an insight into consumer behavior, engagement, and how effective your social media and search engine spending are. Data also offers a plethora of other information such as frequently bought services/products, credit card details, and personal information. It is your responsibility to protect these statistics from hackers.
To achieve this,
organizations should opt for top-of-the-line encryption algorithms, highly secure hosting platforms, and add multiple layers of security such as Two-Factor Authentication ( 2FA )
and update the app as and when a loophole is discovered. An app can easily lose traction once the users realize that their personal and financial information is compromised. Apple store has set up strict parameters for app security and therefore any complacency on your part can get the app removed from their store. As a services provider, you are legally bound to protect user details.
Mistakes in mobile app development
like the one discussed above can be avoided by opting for a renowned
development agency in India
.
Reduced mobile performance -
One of the mistakes which businesses and startups commit out of ignorance is the use of memory-hogging and battery-draining API's and codes which exploit mobile phone hardware resources exponentially.
It is only after the app is launched and the download page is flooded with a string of negative feedback that the developers realize their mistake. So, what is the solution? Test the app on multiple devices and platforms. It is better to delay the launch than to get banned by Google or the Apple store. It is also advisable to offer the beta version to as many general users as possible. It is the best way to find out the shortcomings of any mobile application.
It would be even more helpful if the app is tested by a professional. These entities are known to unearth even the most minuscule issue through their proprietary and standard testing procedures. These entities offer test reports which are similar to live market reflections.
Conclusion -
Like any new business, app development also has a set of preliminary and development checklists which need to be studied carefully and ticked off accordingly, even before a
Mobile application development company
is hired. Research, target audience and platform, incorporation of core functionalities, and security are some of them. By following the above guidelines, and
building an MVP ( Minimum Viable Product ) businesses are assured of a humble launch and a live market to evaluate their app before a final, stable and highly reactive version is provided.
---